SuperSpeed Squeeze Training Aid Review
Scott Kramer tests out this unique product designed to increase your grip strength and consequently, your clubhead speed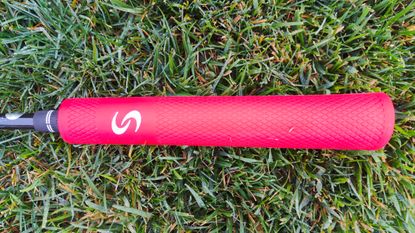 (Image credit: Scott Kramer)
We tried practicing with this every day for a week – short of the brand's four-week suggestion. But editorial deadlines prevail. And it definitely feels like our grip is strengthening. But even more so, controlling the club stands out as the biggest improvement area – almost as if we're swinging lighter-weight clubs now. Maybe there really is something to this.
Reasons to buy
+

Simple to use

+

Easy to install on clubs and remove

+

Stays on well while swinging
Reasons to avoid
-

The premise of what it's trying to accomplish is debatable
Why you can trust Golf Monthly Our expert reviewers spend hours testing and comparing products and services so you can choose the best for you. Find out more about how we test.
SuperSpeed Squeeze Training Aid Review
This company is known for its solid training aids that help you build clubhead speed and the Squeeze is another reliable option for golfers to try. It is like a heavy-duty rubber foam pool noodle that slips onto a club shaft and then slides up over the grip. From there, you practice swinging the club, and it helps build up your grip strength as your hands can't close as tightly around the product so you need to squeeze a bit harder to maintain control of the club. Warning - don't try hitting a shot like this, as you won't have control.
The premise here is that the world's best golfers can create significantly more grip strength than less-skilled amateurs. This allows them to create more swing speed, but also improves their ability to control the club, create lag, stabilize the clubface, and handle more easily buried lies in the rough as they have more hand strength to get through the thicker grass. Company officials point out that more grip strength allows you to use less grip pressure compared to your maximum capacity. This creates less tension and the ability to optimize the use of your hands and arms in the swing. Their bottom line is that if you want to grip and control the club like a tour pro, then you need more grip strength.
That said, many of us were taught to hold the club as loosely as possible while still being able to control the club during a swing. After all, less grip pressure leads to less stress on your hands, arms, elbows and shoulders and a more fluid swing. SuperSpeed is trying to point out that the stronger your natural grip, the less grip pressure you need. Which makes sense. Unless it's forced, which this kind of feels like.
Officials also show off data quantifying how the grip strength of long-drive pros of tour pros is way stronger than that of male amateurs. But there are many other reasons pros hit the ball so much longer than amateurs. So assuming you build up your grip strength twice over does not guarantee you will hit the ball as far as a pro – or as straight.
SuperSpeed claims it can, however, lead to more control, consistency and speed – and that you should see huge gains in grip strength in as little as four weeks of regular training. I don't this will be as effective as its Training set, which comprises three weighted clubs that allow you to build speed gradually during a six-week programme. But there is certainly some merit to the concept and, as with all SuperSpeed products, it has been well executed.
Scott Kramer is a freelance writer based in Southern California. He carries a 5.2 index, along with a hacker's short game. Yet the former Senior Editor of GOLF Magazine always tries to bring his "A" game to his writing.
Here's what's in Scott's golf bag: Driver: Callaway Epic Speed driver Fairway wood: Titleist TSi2 4-wood Hybrid: Titleist H1 hybrid Irons: Titleist AP1 irons Wedges: Vokey wedges Putter: An old Odyssey Versa putter that's been refurbished twice!