Breaking 70: Learning Lessons
John Boag updates his progress on attempting to break 70 for the first time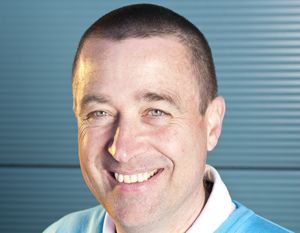 Golf Monthly Newsletter
Golf tips and expert instruction, golf club reviews and the latest golf equipment.
Thank you for signing up to . You will receive a verification email shortly.
There was a problem. Please refresh the page and try again.
Monday 30th April First lesson at St Andrews with Steve North. Had a look at my swing and seeing it on video really highlighted my poor posture, this is something that was highlighted before and I have been trying to improve it with the help of Annette's exercises, how I got to a 9 handicap with that swing is anyone's guess.
Although I was struggling a little with stiffness having done the 68-mile charity cycle on the Saturday previous, the sore backside and shoulders did not have that much of an effect on my normal swing.
During the lesson Steve said I had good club head speed but this was not reflected in the ball speed and smash factor, main cause was my angle of attack and an out to in swing plane, that coupled with a big overswing was costing me distance and accuracy.
He noted that I also had a habit of casting at the top instead of powering through the impact area. He said we will work on my posture first before tackling over issues.
Thankfully the majority of this can be remedied by improving my posture and building up my core muscles, so I will be working on this over the next couple of weeks.
Steve has a fantastic way of pointing out your faults without actually saying how bad it really is. The terminology and way that Steve explains the faults, fixes and what the expected results are if the changes are made were simple and clear.
I am now looking forward to the next lesson and only wish I had had the courage to take lessons when I first took up the game.
Tuesday 1st May Spent an hour at the range working on the posture this afternoon, it's a strange feeling keeping your back straight when your used to resembling the hunch back of Notre Dame when holding a golf club. I think it may take a good while until it begins to feel more natural and Steve did say it will take some work, he wasn't joking.
Decided on a late night trip up the local course, I only took the 7 iron with me and played 9 holes hitting 4 balls on every shot as it was deserted. Took a couple of videos of my swing to show Steve at the next lesson to ensure I'm following his instructions correctly.
I find that I am spending a lot of time thinking about my setup, I shuffle around trying to find a good position and feel I may be over thinking. I will ask Steve at my next lesson for a repeatable setup routine that ensures I am in the same position every time I tee it up if that's possible.
Wednesday 2nd May First medal trying new posture started ok was out in 40 but just fell apart on the back nine. Just could not get the ball off the tee missed all fairways on the back 9 and was forced to chop it out of the trees. Iron play and putting worked well and I could have scored well if only I hit some fairways.
Thursday 3rd May Back out to the scene of yesterday's spectacular failure. It really is a strange game golf, I was hitting the odd fairway and my misses apart from two wild slices were not in trouble. Had a fantastic time with the putter recording my best ever total of 27 putts.
I shot 75 and came away from the course happy for a change.
I am finding the changes to my overall game are going to help but the posture change is major and something that will need to spend a lot of time working on.
I find myself checking it constantly in the bedroom mirror much to the annoyance of my wife as she's always drying her hair or something.
Sunday 6th May Putting is still strong 30 putts tonight on the way to a 78, hitting the irons a little better but still the odd wild slice with the driver.
I think I have the old problem of casting again and can feel myself dropping back onto my heels when hitting the driver as if I'm trying to help it get airborne. I've got plenty to work on at the range over the next couple of weeks.
Week beginning Monday 7th May I was on call all week so time for golf was limited, managed to hit the range just the once all week.
Posture and grip feel natural now but I am still hitting a fade with the driver with the odd slice thrown in.
Saturday 12th May Game
on Rosemount and shot 79, showing some consistancy with the scores at
last, putting with the Milled Anser no4 is going great 29 putts today.
Driver was behaving better today with 11 out of 15 fairways hit and ay last seeing some progress.
Tuesday 15th May Matchplay tie tonight on Lansdowne and despite playing well lost 3&2.
Thursday 17th May Great
game tonight, played my best golf by a country mile so far this year,
shot 76 with a 7 on the card. G20 driver again was working well with 12
out of 15 fairways hit only down side was 9 greens in regulation as the
good iron play of late had deserted me. Can't wait for it all to come
together.
Friday 18th May Second lesson with Steve at
St Andrews today, asked if he had a big wind machine at the left hand
side of the range as it was again blowing left to right not good for a
slicer/fader of the ball.
I hit a few 7 irons to warm up and
Steve said he was happy with my posture improvements, he was happy with
my takeaway and back swing but again noted I was casting or coming over
the top causing an out to in swing path.
I had a go on the
explainer to try and get the feeling of the correct path the club should
take, I continued for a few minutes before taking a practice swing with
a club.
Steve said that there was improvement in my path but I would have to work hard on some drills to correct my path.
For
the remainder of the lesson I worked tirelessly trying to get the swing
plane on a more in to out path and to be honest struggled a little to
get the feel right and this is now what I will be working on for the
next few weeks before my next visit.
Saturday 19th May I
am out in the garden using Bob from the forums recommended headcover
drill to cure an out to in swing path, I will admit to sending my
drivers head cover over the hedge into the neighbours garden and was so
embarrassed I sent my son to retrieve it.
Carried on for half an
hour and found really does work on focusing the mind on missing the
head cover and the feeling of coming in to out seems to be set.
I
am out on the wee course this afternoon as the Scottish Area Teams
Championships are on at the club and both courses are shut so will see
how it goes on the course.
The leading website from the world's oldest golf magazine, we're the go-to destination for amateur and keen golfers alike who are keen to up their golfing game. As well as expert course reviews, news and tips to improve your handicap our golf-focused travel content will help you pair teeing off with your travels in some of the best destinations around the globe.