WATCH: Tour Pro Hit On The Foot By Stray Ball On The Green
Elvis Smylie had to try and jump out of the way when a stray ball bounced onto the green while he was lining up a birdie putt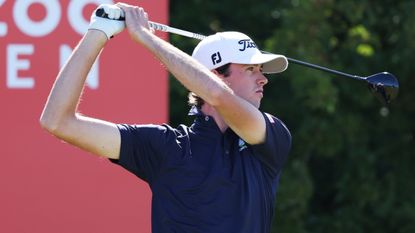 (Image credit: Getty Images)
You'd maybe half expect it on your local course when someone from the group behind gets a bit too eager and fires a ball onto the green while you're still putting – but you wouldn't expect it in the pros though!
Yet that's exactly what Australian golfer Elvis Smylie had to deal with as he lined up a birdie putt at the NZ Open in Queenstown only to be struck on the foot by a stray ball.
It wasn't like the ball came trickling onto the putting surface either, with maybe just the length slightly misjudged by the golfer behind who smacked a Sunday best miles further than he thought he was capable of.
No, Smylie had to jump out of the way when alerted to the ball flying towards him, and it bounced and smacked him on the foot as he took evasive action from the incoming missile.
Here it is. @ElvisSmylie cops a golf ball on the foot from the group behind. #NZOpenHe's all class though, went on to make the birdie putt. pic.twitter.com/PYhNUP9RG6March 3, 2023
See more
The world No. 890 could have been forgiven for that bizarre experience totally putting him off his stride, but credit to him he regathered his thoughts and duly knocked in the birdie putt after all.
The left-hander went on to card a two-under round of 69 to end his second round on five under overall and sit T38 in the NZ Open.
Smylie was certainly not smiling when the stray ball came flying his way, but it all worked out in the end despite the remarkable scenes that we're not used to seeing at all on the professional golf circuit.
The culprit has not been identified but there's been some reaction on social media, with one Australian journalist saying "And people say golfers aren't athletes" while another Tweeter wrote "His caddie should have thrown himself in front of his man".
One thing's for sure, Smylie was looking over his shoulder a lot more on the greens at the NZ Open for the rest of his round.
Paul Higham is a sports journalist with over 20 years of experience in covering most major sporting events for both Sky Sports and BBC Sport. He is currently freelance and covers the golf majors on the BBC Sport website. Highlights over the years include covering that epic Monday finish in the Ryder Cup at Celtic Manor and watching Rory McIlroy produce one of the most dominant Major wins at the 2011 US Open at Congressional. He also writes betting previews and still feels strangely proud of backing Danny Willett when he won the Masters in 2016 - Willett also praised his putting stroke during a media event before the Open at Hoylake. Favourite interviews he's conducted have been with McIlroy, Paul McGinley, Thomas Bjorn, Rickie Fowler and the enigma that is Victor Dubuisson. A big fan of watching any golf from any tour, sadly he spends more time writing about golf than playing these days with two young children, and as a big fair weather golfer claims playing in shorts is worth at least five shots. Being from Liverpool he loves the likes of Hoylake, Birkdale and the stretch of tracks along England's Golf Coast, but would say his favourite courses played are Kingsbarns and Portrush.