WATCH: Major Champion Struggles With Yips On Nerve-Jangling Short Putt
Former US Open champion Lucas Glover goes viral after shortest takeaway we've seen for a short putt on the PGA Tour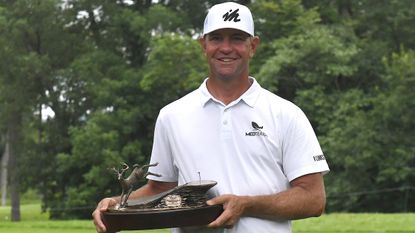 (Image credit: Getty Images)
Nervous putters need to look away now after Major champion Lucas Glover delivered arguably the shortest putting stroke in history at The American Express on the PGA Tour.
First the good news, no rounds were ruined in the making of this video, as Glover actually carded a first-round 69 at PGA West so there was no real harm done.
And the former US Open champion only had one apparent case of the dreaded yips as he struggled over what looked like a regulation short one for par.
It's not a putt to win The Masters, it's not to claim the winning point in the Ryder Cup, and yet Glover looked for a split second like he'd forgotten just what he was doing there.
The clip has unsurprisingly gone viral among golfing social media, as everyone's been there at one stage or another, and it no doubt brings back some awful memories for some.
You can watch it for yourself here, and hopefully it will ease any dodgy putter's nerves to know that even Major champions can sometimes struggle.
Of course, it will give plenty who struggle on the greens palpitations watching the nerves build before the blink-and-you've-missed-it backswing and short stab at the ball. It went in though!
At least it'll give Will Zalatoris a break for a while as his, erm, unique style of dealing with those shot knee-knockers has brought him plenty of unwanted attention.
Paul Higham is a sports journalist with over 20 years of experience in covering most major sporting events for both Sky Sports and BBC Sport. He is currently freelance and covers the golf majors on the BBC Sport website. Highlights over the years include covering that epic Monday finish in the Ryder Cup at Celtic Manor and watching Rory McIlroy produce one of the most dominant Major wins at the 2011 US Open at Congressional. He also writes betting previews and still feels strangely proud of backing Danny Willett when he won the Masters in 2016 - Willett also praised his putting stroke during a media event before the Open at Hoylake. Favourite interviews he's conducted have been with McIlroy, Paul McGinley, Thomas Bjorn, Rickie Fowler and the enigma that is Victor Dubuisson. A big fan of watching any golf from any tour, sadly he spends more time writing about golf than playing these days with two young children, and as a big fair weather golfer claims playing in shorts is worth at least five shots. Being from Liverpool he loves the likes of Hoylake, Birkdale and the stretch of tracks along England's Golf Coast, but would say his favourite courses played are Kingsbarns and Portrush.