Melissa Reid: "I want to be the best ever"
Rookie sensation Melissa Reid talks to Golf Monthly as the Ricoh Women's British Open looms at Sunningdale.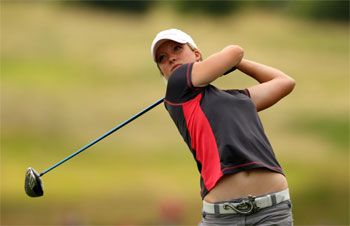 At just 20 years of age, Melissa Reid – a runner up in this year's English Open and currently lying ninth in the Order of Merit in her maiden year on the Tour – is already being tipped for greatness in some quarters on the eve of the Ricoh Women's British Open at Sunningdale this week. Golf Monthly caught up with her during the launch of the season's final major at Urban Golf to chat about her hopes for the Open and the future…
GM: You've had a fantastic start to your career as the leading rookie on the Ladies European Tour. How does that sit with you? You seem to have your feet firmly on the ground…
MR: I don't really think about it. If you play good golf, the recognition will just come. I have my goals. Obviously things like the Solheim Cup, I'd love to get in that next year. It's one of my goals. It's always been one of my ambitions in life to achieve. But I have to play good golf and that's literally all I focus on; the shot I am playing and that's what you have to do to get where you want to be.
GM: Obviously, you're very determined. Do you have aims for this year, for next year? You seem to want to win at all costs…
MR: That's what drives me. I want to win Majors and I want to win by record numbers. I want to shoot the lowest round every day to win a golf tournament.
GM: So you want everything?
MR: [Laughs} I just want to be the best at everything.
GM: You don't seem to be lacking in confidence ahead of the British Open at Sunningdale…
MR: I'm not there to make up the numbers – I want to win the British Open and that is what I have been preparing for. I just can't wait to get out there and do the best I can.
GM: There's a lot of competition though…
MR: Of course there is, and that's great. Trust me, the women's game is not lacking in that. Women are of a very competitive nature in general.
GM: Tell us a bit about life on Tour…
MR: It's great. We have really good banter and it's a really good environment to be in. We chill out together and I have a lot of good mates on the Tour. But when Thursday comes, everyone gets very competitive. You wish your friends well, but you still want to beat them.
GM: Women's golf in general is really on the up. Will you be sad to see Annika Sorenstam retire that the end of this year?
MR: Absolutely. She is just an unbelievable women. I have been lucky enough to meet her on a few occasions and I have also played with her. As well as being an incredible golfer, she is also a lovely lady; very down to earth. She has taken women's golf to a whole new level. I think Laura Davies did that up to a point, and she doesn't get enough recognition for what she did for European golf. She's a great lady as well. But Annika took everything to a whole new level, she did the fitness, she did the eating well. I just think she's been great for our game.
GM: In 2003 she became the first women to participate on the PGA Tour, but it would be a shame if she were to be remembered only for that…
MR: Absolutely, she's achieved more than any woman has achieved. I can't really say enough about her. She's just completely transformed women's golf.
GM: How do you think women's golf has changed in the last 20 years?
MR: It's blossomed into a sense of its own. There's so much talent out there and it can only get better; it can only get more publicity and there's going to be more great players coming through. You know, I'm hoping to be the new British hope. Not even hope; I don't even see that as the right word to use. I want to be the best British player that's ever come out of golf. I want to be the best British golfer that's ever lived, and I want to be the best golfer that's ever lived as well, so I'm pretty ambitious really, which is good.
Alex began his journalism career in regional newspapers in 2001 and moved to the Press Association four years later. He spent three years working at Dennis Publishing before first joining Golf Monthly, where he was on the staff from 2008 to 2015 as the brand's managing editor, overseeing the day-to-day running of our award-winning magazine while also contributing across various digital platforms. A specialist in news and feature content, he has interviewed many of the world's top golfers and returns to Golf Monthly after a three-year stint working on the Daily Telegraph's sports desk. His current role is diverse as he undertakes a number of duties, from managing creative solutions campaigns in both digital and print to writing long-form features for the magazine. Alex has enjoyed a life-long passion for golf and currently plays to a handicap of 13 at Tylney Park Golf Club in Hampshire.