'They Need To Cut Them' - Kang Slates Greens At Mediheal Championship
Kang appeared to be frustrated following the third round of the LPGA Mediheal Championship, as she blasted the speed of the greens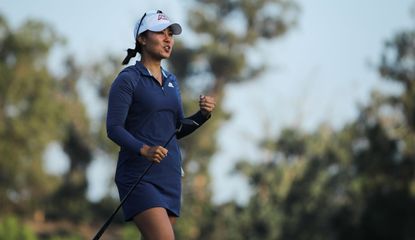 (Image credit: Getty Images)
Danielle Kang heads into the final round of the LPGA Mediheal Championship six shots off leader - England's Jodi Ewart Shadoff. However, the American could arguably have been a lot closer had she found some success on the greens.
Speaking after her round, the American stated: "My ball striking worked really well today. I was getting very frustrated on the greens," before adding that both herself and her playing partner, Hye-Jin, couldn't get the ball close to the hole and resorted to playing a money game which saw them start "smashing putts".
"We both couldn't get it to the hole. Eventually we started playing money games and start smashing putts. That's how we started making birdies on the back three holes," explained Kang, who returned to action last month following a diagnosis of a tumor on her spine.
However, the green bashing didn't stop there, as Kang went on to say that the greens need to be cut in order to please both LPGA players and members of The Saticoy Club.
"I think the greens are just so slow and I think they need to cut them. I think it's enough of just letting them grow out. I think members are pretty upset. They're coming up to me for the last four days infuriated that the greens are playing this slow."
Despite the issue with the greens, Kang did finish with birdies at the 16th and 17th, but even this seemed to throw a negative on the occasion, as the 29-year-old said: "I'm getting to a point where I just don't give a s**t at that point. I just missed every single putt coming in. At one point you just get to a point where you have to hit it as hard as you can; that's what I did."
Although the American was frustrated, Kang is heading into the fourth round with a sense of optimism and will be hoping to see more putts drop, to give her the best chance of moving herself up the leaderboard.
"It doesn't matter to me. I'm kind of in a mindset where always on the last day I've got nothing to lose. I've played out here long enough where I'm not looking for seconds or Top 5s or Top 10s. It doesn't matter if I three-putt. Probably just going to smash putts all day tomorrow."
It will be interesting to see if The Saticoy Club takes Kang's comments on-board. Regardless of that, it is set to be a brilliant conclusion to the LPGA Mediheal Championship on Sunday which will see the leaders tee off at 12:25pm local time.
Cieran joined the Golf Monthly team having previously written for other digital outlets like Reach PLC and Northern Golfer. After studying Journalism at Northumbria University, Cieran went on to complete an MA at the University of Sunderland. A big golf fan, he currently plays at Blyth Golf Club, where he holds a handicap of 8. Citing his favorite golfer as Tiger Woods, Cieran regards himself as the best snap hooker of a ball in the North of England.