Saudi Golf Chief Backtracks On LIV Golf Majors Plan
Majed Al Sorour says comments on LIV Golf creating their own Majors had been "misrepresented" in interview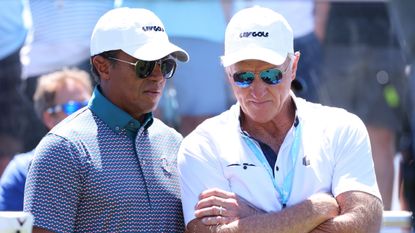 (Image credit: Getty Images)
Saudi Golf Federation CEO Majed Al Sorour has issued a statement saying his comments about LIV Golf creating their own Majors have been "wrongfully expressed" in a recent interview.
A feature in the New Yorker (opens in new tab) quoted Al Sorour as saying: "If the Majors decide not to have our players play? I will celebrate. I will create my own Majors for my players."
Along with the lack of Official World Golf Ranking (OGWR) points, gaining entry to the Majors is one of the big issues for LIV Golf players going forward.
Rankings will tumble leading to them missing out, while there is still talk of those running the big four events banning LIV golfers altogether – leading to Al Sorour's comments about making their own.
However, he has moved to row back somewhat on those quotes, releasing a statement on social media to say his comments had been misrepresented.
"I had a casual conversation with a New Yorker reporter at LIV's Boston event a few weeks ago, during which I expressed my frustration at the unfortunate blackballing of LIV Golf players by the PGA Tour," Sorour said in a statement.
"When it comes to the majors, tournaments that stand alone and are independent of LIV, I have the utmost respect for the majors. The Majors are about history, heritage, true competition and honour.
"The story wrongfully expressed and misrepresented my views. The Majors are indeed the best platform where LIV golfers and other tour golfers can compete, despite the PGA Tour's suspension of our players.
"As a LIV Golf board member and managing director, I am here to accomplish our LIV Golf investment chairman and the board's strategic direction by building a team, growing the game and defending player rights. That is my only interest.''
Al Sorour does not categorically deny that LIV Golf would seek to create their own Majors however, or deny the actual quote in the New Yorker, so it may be more of a move to avoid angering the golf Major organisers.
During his New Yorker interview, Al Sorour also played down the reports that Tiger Woods had been offered as much as $800m to join LIV Golf earlier this year.
The inaugural LIV Golf season will conclude in Miami at Trump National Doral starting 28 October.
Paul Higham is a sports journalist with over 20 years of experience in covering most major sporting events for both Sky Sports and BBC Sport. He is currently freelance and covers the golf majors on the BBC Sport website. Highlights over the years include covering that epic Monday finish in the Ryder Cup at Celtic Manor and watching Rory McIlroy produce one of the most dominant Major wins at the 2011 US Open at Congressional. He also writes betting previews and still feels strangely proud of backing Danny Willett when he won the Masters in 2016 - Willett also praised his putting stroke during a media event before the Open at Hoylake. Favourite interviews he's conducted have been with McIlroy, Paul McGinley, Thomas Bjorn, Rickie Fowler and the enigma that is Victor Dubuisson. A big fan of watching any golf from any tour, sadly he spends more time writing about golf than playing these days with two young children, and as a big fair weather golfer claims playing in shorts is worth at least five shots. Being from Liverpool he loves the likes of Hoylake, Birkdale and the stretch of tracks along England's Golf Coast, but would say his favourite courses played are Kingsbarns and Portrush.