Peter Alliss and Sandy Lyle to be inducted into World Golf Hall of Fame
The two Brits will be inducted at ceremony in May 2012 after announcement from European Tour chief executive George O'Grady at annual lunch in London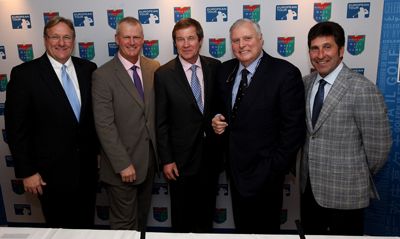 Peter Alliss and Sandy Lyle will be inducted into The World Golf Hall of Fame next year to honour their contribution to the game.
Both Lyle and Alliss will be honoured along with fellow 2012 inductees Phil Mickleson, Hollis Stacy and Dan Jenkins at the Hall of Fame's Induction Ceremony on May 7, 2012 in Florida.
Alliss was selected via the Lifetime Achievement Category whilst Lyle was elected through the International Ballot.
The official announcement was made by European Tour chief executive, George O'Grady, and World Golf Hall of Fame chief operating officer, Jack Peter, during the European Tour's Race to Dubai Golfer of the Year Luncheon in London.
O'Grady said: "This is a very special day for The European Tour. Peter Alliss and Sandy Lyle are both very worthy candidates for the World Golf Hall of Fame.
"Peter followed a highly-acclaimed playing career by becoming a hugely admired and wonderfully entertaining commentator while Sandy played a pivotal role in raising the image and popularity of British and European golf with his exceptional winning performances in the 1985 Open Championship and 1988 Masters Tournament."
Sandy Lyle's career highlights included winning the Open at St Georges in 1985 and winning the US Masters in 1988. In doing so, he became the first British winner of the Green Jacket.
His career also included victory in the Players Championship in 1987, 16 European Tour victories and a total of 29 career wins.
Lyle said: "I am not only delighted, but also very excited to be honoured by the World Golf Hall of Fame. I would like to thank all who voted for me. To be placed in the company of the greatest names in our game is very special and I am looking forward so much to the Induction Ceremony next May."
Peter Alliss won 23 tournaments throughout a playing career that spanned 1950s and 1960s, including three British PGA Championships. He also recorded a remarkable treble when he won the Italian, Spanish and Portuguese Opens in successive weeks.
Alliss said: "This is all very unexpected. I am delighted, surprised, humbled and honoured to be thought of in this way and to be given a place in the World Golf Hall of Fame, particularly as it is chosen by people all around the world."
Betting experts, writers and video producers. Couple of guys in our early 20's looking to bring the sport that we love into a new era.'