Rome will host 2022 Ryder Cup
Rome saw off bids from Austria, Spain and Germany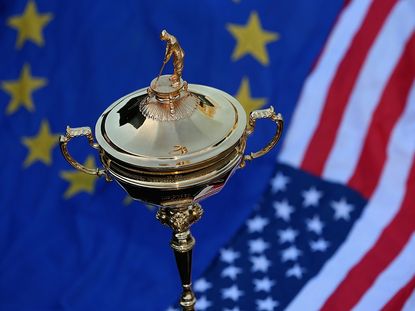 (Image credit: Getty Images)
The Italian capital beat bids from Austria, Germany and Spain.
Rome will host 2022 Ryder Cup
The Ryder Cup will be held in Rome for the first time in 2022.
Europe and the United States will face off at the Marco Simone Golf and Country Club, located around 17km from Rome's centre.
Rome beat cities in Austria, Spain and Germany to claim the rights to host what will be the 44th staging of the event.
GALLERY: Ryder Cup winning moments
European Tour Chief Executive Keith Pelley said: "History has shown time and again the Ryder Cup is pure theatre and there is no question that the Eternal City of Rome will provide a wonderful backdrop for one of the great occasions in world golf.
"With Paris in 2018 and now Rome in 2022 being the respective host cities for Europe's next two stagings of the biennial contest against the United States, the magical appeal of the Ryder Cup is set to continue."
Denmark, Turkey and Portugal had also been among the countries interested in following Whistling Straits in 2022, but all three withdrew.
Pelley was part of the Bid Evaluation Committee, that also included Europe's Ryder Cup director Richard Hills, Match Director Edward Kitson, European Tour Chief Financial Officer Jonathan Orr and the European Tour's Director of Property and Venue Development David MacLaren.
The following five specific areas were considered by the committee:
* Demonstrable Government, Political, Institutional and Golfing Community support
* Commitment to the development of a world-class golf facility (new or existing)
* Provision of ancillary facilities, suitable access and infrastructure commensurate with the staging of an international sporting event, including proximity to a major international city
* Commercial opportunities available to the Ryder Cup
* Contribution of the bid country to the development of golf in terms of legacy, contribution to the professional game, integration of golf within tourism and business communities, development of levels of golf participation, professional tournament golf at all levels and contribution to the Ryder Cup.
The Italian bid was strong in all areas, with a pledge made to undertake a reconstruction of the Marco Simone course to bring it to the standards required to host the Ryder Cup.
They have also committed to guaranteeing a €7m prize fund for the Italian Open for 11 years, starting in 2017.
RELATED: 14 surprising Ryder Cup heroes
Italy has a strong connection with the Ryder Cup, with Constantino Rocca the first native to represent Europe when he played in 1993.
The Molinari brothers, Edoardo and Francesco, have both played and starred alongside each other in Europe's victory in 2010 at Celtic Manor.
Will Medlock graduated from UEA with a degree in Film and Television before completing a Masters in Sports Journalism at St Mary's in London. Will has had work published by The Independent and the Rugby Paper.