Own The Second Shot digital magazine
Ernie Els and David Howell provide advice on using hybrids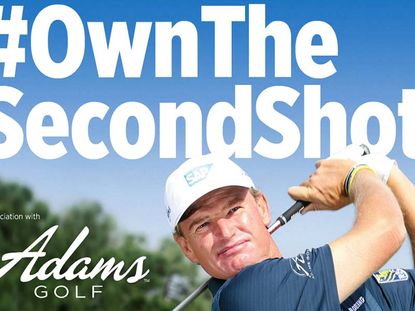 Ernie Els and David Howell offer tips on making the most of hybrids.
Own The Second Shot, Adams Golf's digital magazine, has tips from Tour players Ernie Els and David Howell to help you master your approach to the green - click here to access.
Throughout the six sections of the mini-mag, the respected duo, with 33 European Tour wins between them, advise on the best ways to use hybrids and play from poor lies.
Before getting into the exclusive content, you can take a look at some of Adams' latest clubs, from the Pro Hybrid to the Idea Hybrid irons.
Then Howell demonstrates the basic hybrid shots, before moving on to making the most out of being stuck in rough and finally using flight control.
Howell says: "Remember that your hybrids are designed to get the ball up in the air for you, so you should treat them like a long iron."
Video content accompanies most of the sections, making learning the tips on offer in the mini-mag even simpler.
In the next section, Howell and Els are among the players to look back on their careers and talk through their greatest second shots. Jeff Overton and Robert Garrigus run through some of their best moments too, including a Ryder Cup moment to remember for Overton in 2010.
Els then goes through his bag, discussing the ins and outs of his chosen clubs, from the Adams XTD Tour irons to the Yes! Golf Callie putter.
The South African also gives advice on how to use hybrids to get out of difficult lies. Videos and diagrams are used to make learning these key shots easier.
Els says: "The wonderful thing about hybrids is the versatility they give you. The shallowness of the club is going to help me find a powerful contact."
He then moves on to how to become more consistent with shots and how to strike the ball solid every time.
Will Medlock graduated from UEA with a degree in Film and Television before completing a Masters in Sports Journalism at St Mary's in London. Will has had work published by The Independent and the Rugby Paper.