MyGolfRanking service announces major expansion plans
MyGolfRanking is a new service to golf clubs allowing members to see how they're faring against other golfers from far and wide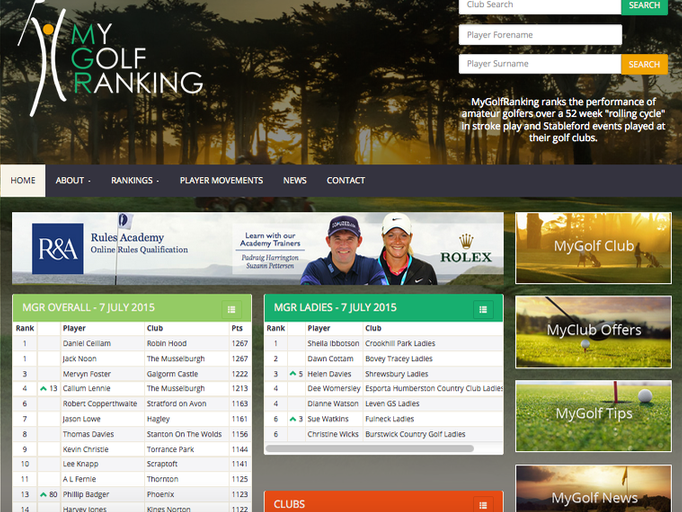 MyGolfRanking, a unique free service offering local, nationwide or even global rankings to clubs and their members, is looking to grow its network in 2015
Following successful trials among Fife Golf Clubs in 2011, and a rollout to more than 550 men's and ladies' clubs worldwide since then, MyGolfRanking, a unique free service to golf clubs and their members, has just announced major nationwide and global expansion plans in 2015.
The system relies on the competitive nature of club golfers, always eager to see how their games hold up, scorecard in hand.
Good-natured bragging rights have long been a highly sought-after commodity at golf clubs up and down the country, and now those bragging rights can be extended way beyond an immediate circle of golfing friends, or the club's own four walls, to the whole of the county, country or even planet.
Until now, only elite players have been able to truly judge their performances against others, but MyGolfRanking, created by the mathematical brainpower behind The R&A/USGA World Amateur Golf Ranking (WAGR), changes all that, using similar calculations to generate rankings that accurately differentiate between handicap golfers right across the globe.
It is the only such performance ranking system for ordinary club golfers, with clubs able to register free on the www.MyGolfRanking.net website.
Once registered, there is minimal work required, and nothing for club members to do other than check in regularly to see how they're getting on against other handicap golfers in the club, county or beyond.
"Our vision is to have MyGolfRanking adopted around the world as the truly global golfing social network," says creator and founder, David Moir.
"There is no doubt that by adding MyGolfRanking to the competitive menu, club golfers can pit themselves against their peers and intensify their desire to outrank all others in their club and beyond."
To find out more about MyGolfRanking, log on to www.MyGolfRanking.net