Golf Foundation honours grass roots golf heroes
The annual awards took place at Wentworth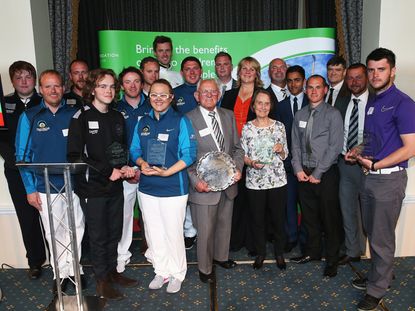 The Golf Foundation Presidents' Awards took place at Wentworth on Wednesday 20th May. They celebrated the work of volunteers and professionals who have given their time to the game
The Golf Foundation Presidents' Awards took place at Wentworth (opens in new tab) on Wednesday 20th May. They celebrated the work of volunteers and professionals who have given their time and enthusiasm to provide young people from all backgrounds and abilities with a start in the game.
The event was supported by the European Tour and took place in the Wentworth Club's Ballroom, where the stories of the nine winners were heard.
Chief Executive of the Golf Foundation, Brendon Pyle, welcomed Ryder Cup legend and former President of the Foundation Bernard Gallacher to the stage to present the awards.
Brendon Pyle said: "We all want to encourage more young people into golf. Be it as a coach, volunteer, parent, friend or administrator, we all need to sell the benefits of our sport to young people and to do everything we can to ensure that their early experience of golf is a positive one and that they want to stay in the sport.
"Our annual awards highlight the fantastic work that is being done to make it possible for children and young people to start, learn and stay in golf."
The award winners were as follows
The charity's most prestigious Sir Henry Cotton Award was presented to Les Hancock, who became a junior organiser at Wolstanton Golf Club, Staffordshire, in 1967 and has been an inspirational figure for the junior section ever since, making a positive impact on thousands of young people with golf, providing the opportunity for a lifetime of enjoyment as well as teaching positive life skills such as honesty, respect and co-operation. Les was made Vice President of The Staffordshire Union of Golf Clubs in 2004.
Les Hancock receives his award from Bernard Gallacher
The Gallacher Award for 'Best Volunteer' was presented to 15 year-old Ali Jodiyawalla who began assisting younger children in golf after attending a Golf Foundation StreetGolf workshop in 2013. He is now a constant help to Head PGA Coach Aaron Lansberry at his home club of Hatchford Brook Golf Centre in Birmingham, assisting with junior coaching, competitions and administering three leagues for Under-12 players. In his excellent acceptance speech Ali thanked family, friends and Aaron for their inspiration and said he was "really proud and happy" to be recognised for work "that is a pleasure".
Ali Jodiyawalla with Bernard Gallacher
Other awards included the Sinclair Award for best PGA Professional, who was Ben Jones of Garon Park Golf Club in Essex who, in a deprived area, has introduced more than 1,600 young people to the game, with more than 450 returning to the club for further golfing experiences.
Ben Jones receives his award
South Wales PGA Pro Nicola Stroud runs an outstanding community project with the direct assistance of local police to encourage young people from the poorer areas of Swansea into golf clubs for free coaching so that they can develop better life skills. On receiving the Bonallack Award, Nicola said: "I started playing at the age of ten and had funding for coaching from the Golf Foundation so it is nice to be able to give something back to this charity by helping in this way." Nicola also thanked the area's police service and Golf Development Wales for their support.
Nicola Stroud gets her award
The Paul Mitchell Golf Academy in Bristol was honoured (the Laddie Lucas Award) for its great work in encouraging disabled children and making them feel highly welcome and part of all golf activity as they learn to play the game and make new friends.
Royal West Norfolk Golf Club and Leamington & County Golf Club both received deserved awards, the Norfolk club (the Gus Payne Award) for raising the most funds for the Foundation of any club in 2014, and was given special mention by the Chief Executive for its sustained support over a number of years.
Leamington & County Golf Club (the Burroughs Award) formed an 'Inclusive Golf Academy' that gives many disabled children the chance to play golf. PGA Pro Paul Aitkens now teaches around 75 special educational needs children each week. He thanked the golf club staff, members, parents and teachers and said: "A big thanks to the students – it's nice to teach them as they enjoy it so much and make this a pretty cool job."
The Critchley Award is presented to a major school partnership and in recent years Dartmoor School Sport Partnership, with Mike Cayless, PGA Pro at Dainton Park Golf Club, has introduced golf to more than 10,000 pupils with support from the Golf Foundation. In 2014 alone, 2,500 young people in 11 primary schools and two secondary schools took part in golf.
Golf is a great sport and is increasingly working with other sports to get across its 'Skills for Life' message. The Mackenzie Award was presented to Cardiff City FC Community Foundation/Valleys Golf Enterprise for their great Premier League for Sport programme in which Cardiff City has linked with the local golf club and PGA Professional to offer golf and football coaching sessions in some of the most deprived areas of the city, with police figures showing a dramatic drop in anti-social behaviour during the time of this project.
Golf Foundation Chairman Charles Harrison thanked all the award winners, Bernard Gallacher and invited guests, Wentworth Club and The European Tour for their support on the day, and also made time to offer special thanks to the charity's core funders for their sustained assistance as the Foundation works with its partners to grow the game.
Tom Clarke joined Golf Monthly as a sub editor in 2009 being promoted to content editor in 2012 and then senior content editor in 2014, before becoming Sports Digital Editor for the Sport Vertical within Future in 2022. Tom currently looks after all the digital products that Golf Monthly produce including Strategy and Content Planning for the website and social media - Tom also assists the Cycling, Football, Rugby and Marine titles at Future. Tom plays off 16 and lists Augusta National (name drop), Old Head and Le Touessrok as the favourite courses he has played. Tom is an avid viewer of all golf content with a particularly in depth knowledge of the pro tour.