Free Hoylake Strokesaver with Golf Monthly Open Issue
This month's Golf Monthly Open Issue comes with a free copy of the Strokesaver course guide of Royal Liverpool, the host of the 2014 Open Championship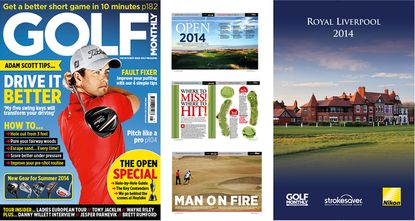 This month's Golf Monthly Open Issue comes with a free copy of the Strokesaver course guide of Royal Liverpool, the host of the 2014 Open Championship.
This month, Golf Monthly magazine is giving away a free Strokesaver course guide of Royal Liverpool with every copy of the Open Issue.
Royal Liverpool will this year play host to the Open Championship, which takes place from 17- 20 July.
The Strokesaver guide combines Trimble GPS with laser technology to produce state-of-the-art mapping and distance data.
The free course guide goes into in-depth analysis of each of the 18 holes at Royal Liverpool, detailing the yardage for each hole and the distance to each green from the tee.
With the guide, amateurs as well as golf fans are given the same experience as the pros when it comes to knowledge of the layout of each hole and the exact, accurate pin position.
This year's Open Championship sees the tournament returning to Royal Liverpool for the twelfth time since its inauguration in 1897.
The previous Open Championship staged at Hoylake, in 2006, saw Tiger Woods win the Claret Jug for the third time in his career.
As well as giving away Strokesaver course guides to Royal Liverpool, the Open Issue also takes a look at Royal Liverpool Golf Club's history from the club's former captain Joe Pinnington.
Ahead of the July Open Championship, Golf Monthly's editor Michael Harris explores six holes at Royal Liverpool that could play a critical role in determining this year's champion.
Bill Elliott also explores Rory McIlroy's chances after his astounding win at the BMW PGA Championship at Wentworth in May.
These features form part of a 31-page Open special, with the rest of the magazine packed full of opinion, the latest gear, courses, instruction, travel and more.
The Open Issue is now available for purchase.
Tiyah Hernandez-Pierrepont is a full-time student at the University of Edinburgh where she studies English Literature. Tiyah grew up with golf, with her stepdad having it on the TV or even sometimes hiring Tiyah as a caddie! Tiyah is also an avid photographer and runner.