Donald Trump opens Turnberry Clubhouse
Multimillion pound refurbishments have been made to the site.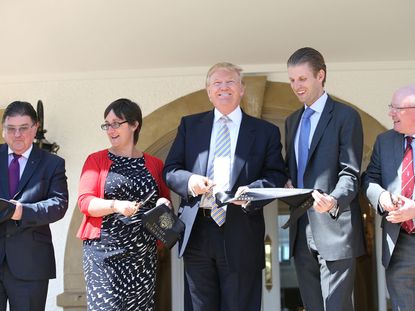 The businessman was opening the Trump Turnberry Clubhouse after its multimillion pound refurbishment.
Donald Trump formally opened the Trump Turnberry Clubhouse on Monday after a multimillion pound upgrade by The Trump Organization.
The American businessman funded the refurbishment and its opening is the first phase of a two year extensive upgrade to the site.
Speaking at the reception, Mr Trump outlined his plans to continue renovations to world leading standards.
He said: "Our vision for Trump Turnberry is to make this unique and special place the finest golf resort in the world.
"With the work we've carried out on the clubhouse, it is on track to becoming the world's most impressive 19th hole."
http://www.youtube.com/watch?v=rPRQjC5pY2g
Among the changes are a new East-facing balcony and a larger retail shop.
A new restaurant has also been built called "The Duel in the Sun", which, of course, pays tribute to one of the most famous encounters in Open history between Jack Nicklaus and Tom Watson in 1977.
A replica of the claret jug is another new addition to the clubhouse, sitting alongside other memorabilia from the Open's world-famous history.
While more lockers have been added, new meeting rooms, including the Tom Watson boardroom and the Champions Suite, are also part of the changes to Turnberry.
Will Medlock graduated from UEA with a degree in Film and Television before completing a Masters in Sports Journalism at St Mary's in London. Will has had work published by The Independent and the Rugby Paper.