2015 Presidents Cup's wives and girlfriends
Some of the faces to look out for at this week's Presidents Cup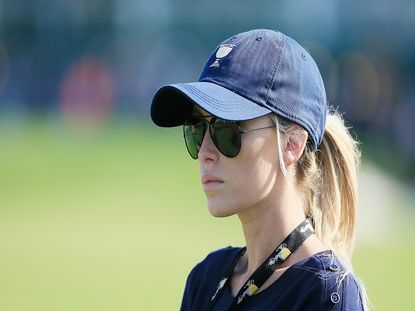 (Image credit: Getty Images)
From Paulina Gretzky to Amanda Bowditch, we take a look at the loved ones of this week's players.
2015 Presidents Cup's wives and girlfriends
The focus might be on the golf after a tense second day in Incheon City, but you may have noticed some particularly glamorous fans out in South Korea.
As you'll have seen in the respective team photos, some of the players' wives and girlfriends have made the trip to the Jack Nicklaus-designed course.
Some of the faces will be familiar, such as those of Amy Mickelson and Paulina Gretzky.
Given the success of Jordan Spieth this year, we've also seen a fair amount of his girlfriend, Annie Verret.
Maybe you've caught a glimpse of Rosalind Schwartzel or Taibtha Furyk, too. Below we take a look at some of the partners who made the trip to support their men. Ladies, we salute you...
Rosalind Schwartzel and Amanda Bowditch
Charl and Steven's partners are both in Incheon City to see if the duo can contribute to a rare Presidents Cup victory for the Internationals.
Paulina Gretzky
Long-term partner of Dustin Johnson, Gretzky is the daughter of legendary hockey player Wayne.
Erin Walker, Tabitha Furyk and Sybi Kuchar
The wives of Jimmy, Jim and Matt were captured enjoying the sunshine during the fourballs. The Americans took only 1.5 points on the second day, so they'll be hoping their wives can prove to be a good luck charm from this point onwards.
Annie Verret
You wouldn't know it by the name, but Annie Verret is Jordan Spieth's girlfriend. She's been present for all the big moments this year for Jordan. Let's face it, there have been so many of them we'd be surprised if you didn't recognise her by now.
Justine Reed & Amy Mickelson
Chances are you know all about Phil and Amy, but Justine Reed is one of the newest faces to the wives and girlfriends parties at big events. Such is husband Patrick's success these days, we're starting to see a lot more of her.
Will Medlock graduated from UEA with a degree in Film and Television before completing a Masters in Sports Journalism at St Mary's in London. Will has had work published by The Independent and the Rugby Paper.