Justin Thomas And Bones Mackay To Debut "BagCam" Coverage At The Valspar
Justin Thomas and caddie Bones Mackay will debut PGA Tour's "BagCam" Coverage At The Valspar On Friday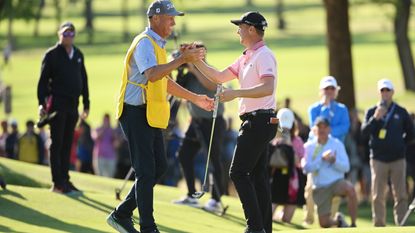 (Image credit: Getty Images)
Stand by for yet another innovative piece of TV coverage on the PGA Tour, as following on from live on-course interviews Friday will see Justin Thomas and caddie Bones Mackay debut "Bagcam".
NBC have been front and centre in trying to add new experiences for TV viewers watching the PGA Tour, with the latest innovation set to be unveiled on Friday at the Valspar Championship.
The DP World Tour has had on-course interviews for a while now, and in recent weeks players on the PGA Tour have been popping the ear buds in and taking part in interviews while in between shots.
Now, viewers will get an alternative look inside the ropes at the Copperhead Course with the debut of BagCam – a small camera that will be placed on Thomas' bag for the final two holes of the second round on Friday.
It'll give fans a unique perspective and insight into his interactions with caddie Jim "Bones" Mackay as they plot their way around the final couple of holes.
"We are always exploring ways to innovate within our golf coverage while not disrupting or interfering with what's happening on the course," said NBC Sports' head golf producer Tommy Roy.
"BagCam will provide a unique perspective for the viewers at home, and we thank Justin Thomas and Bones for letting us join them on Friday afternoon on Golf Channel and Peacock."
Thomas, who shot a two-under round of 69 in the first round of the Valspar, is a great choice for the debut of BagCam, but a surprise one considering he's previously stated his opposition to getting involved.
"I would not wear a mic, no," Thomas said on the topic. "That's not me. I mean, as close as those mics are on the tees and the greens and as close as I get to boom mics during competition anyway, I basically feel like I am mic'd up."
Thomas will be the pioneer though as we'll get to watch and hear just how he goes about his business in the heat of PGA Tour competition.
Paul Higham is a sports journalist with over 20 years of experience in covering most major sporting events for both Sky Sports and BBC Sport. He is currently freelance and covers the golf majors on the BBC Sport website. Highlights over the years include covering that epic Monday finish in the Ryder Cup at Celtic Manor and watching Rory McIlroy produce one of the most dominant Major wins at the 2011 US Open at Congressional. He also writes betting previews and still feels strangely proud of backing Danny Willett when he won the Masters in 2016 - Willett also praised his putting stroke during a media event before the Open at Hoylake. Favourite interviews he's conducted have been with McIlroy, Paul McGinley, Thomas Bjorn, Rickie Fowler and the enigma that is Victor Dubuisson. A big fan of watching any golf from any tour, sadly he spends more time writing about golf than playing these days with two young children, and as a big fair weather golfer claims playing in shorts is worth at least five shots. Being from Liverpool he loves the likes of Hoylake, Birkdale and the stretch of tracks along England's Golf Coast, but would say his favourite courses played are Kingsbarns and Portrush.