'How Does This Help The So Called Strategic Alliance?' - Richard Bland Blasts PGA Tour Changes
Richard Bland says the PGA Tour has no interest in the Strategic Alliance with the DP World Tour judging by the latest changes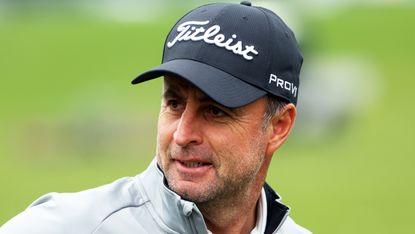 (Image credit: Getty Images)
Richard Bland has echoed the sentiments of Lee Westwood in questioning just what the new changes to the PGA Tour elevated events will do for the Strategic Alliance with the DP World Tour.
Reaction has been flying after it emerged that the PGA Tour would be moving to limited-field, no-cut events in 2024, in another response to the threat posed by LIV Golf.
A Golfweek report (opens in new tab) that the PGA Tour will introduce smaller 70-78 man fields with no halfway cuts for their larger designated events in 2024 brought in a huge reaction, both positive and negative.
Many from the LIV Golf side of the argument have laughed at the changes saying they are merely copying the structure of Greg Norman's smaller, no-cut events.
Lee Westwood, meanwhile, has questioned what the newly styled events mean for the Strategic Alliance between the PGA Tour and DP World Tour - with it on the surface meaning fewer chances of seeing the big players in Europe.
And fellow Englishman Richard Bland seems to agree - also adding that the 10 DP World Tour players who get PGA Tour cards as part of the alliance will find it near impossible to get into the new big events.
"How does this help the so called strategic alliance with the @dpworldtour?" Bland wrote on Instagram.
"The 10 players will have zero chance of getting in these limited field events!! Making their chances of keeping their playing rights VERY difficult!!
"Just proves that the @pgatour have no interest in this alliance. And of course this is "growing the game". $20 million, limited field, no cut.. sound familiar."
Paul Higham is a sports journalist with over 20 years of experience in covering most major sporting events for both Sky Sports and BBC Sport. He is currently freelance and covers the golf majors on the BBC Sport website. Highlights over the years include covering that epic Monday finish in the Ryder Cup at Celtic Manor and watching Rory McIlroy produce one of the most dominant Major wins at the 2011 US Open at Congressional. He also writes betting previews and still feels strangely proud of backing Danny Willett when he won the Masters in 2016 - Willett also praised his putting stroke during a media event before the Open at Hoylake. Favourite interviews he's conducted have been with McIlroy, Paul McGinley, Thomas Bjorn, Rickie Fowler and the enigma that is Victor Dubuisson. A big fan of watching any golf from any tour, sadly he spends more time writing about golf than playing these days with two young children, and as a big fair weather golfer claims playing in shorts is worth at least five shots. Being from Liverpool he loves the likes of Hoylake, Birkdale and the stretch of tracks along England's Golf Coast, but would say his favourite courses played are Kingsbarns and Portrush.