Alan Mew is Hampshire Seniors County Champion
The 62-year from Stoneham Gofl Club has retained his title after a play-off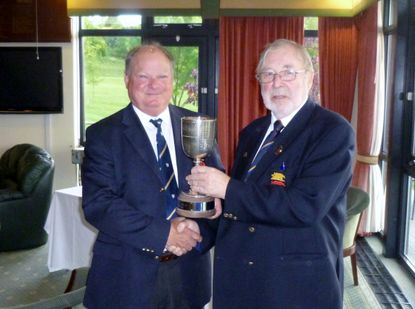 The 62-year from Stoneham Gofl Club has retained his title
Stoneham's Alan Mew has become Hampshire Seniors County Champion after a play-off victory at Royal Winchester Golf Club.
Defending champion Mew defeated Royal Jersey's Trevor Gray at the first hole of a sudden death play-off after both players had tied on five-over-par for the 27-hole championship.
Sixty-year-old Mew had led after the opening eighteen holes on the 6,387-yard layout with a three-over-par round 75 - which would have been so much better had he not made double bogey at the short par-4 18th - one of those things golfers really hate (opens in new tab).
Royal Jersey's Vic Bourgoise and Gerry Penfold (Sandford Springs) were his closest challengers on 76 with Royal Jersey's Trevor Gray on 77.
Bourgoise and Penfold could not maintain their challenge around the undulating Hampshire Downland course designed by JH Taylor but Trevor Gray made-up two shots on his playing partner to force a play-off.
Plus-one handicapper Mew now goes forward to represent Hampshire, Isle of Wight and Channel Islands in the Champion of Champions Tournament at Woodhall Spa in September, where he will again be the defending champion.
Mew is well known in golf cicles as he played on the Seniors Tour for a while. He is also known around Wentworth for his day job. He worked in construction industry and headed the project team that renovated the clubhouse at Wentworth Club in 1993, venue of this week's BMW PGA Championship (opens in new tab).
Mew also played on The European Tour for two years and represented Trinidad and Tobago in the 1980 World Cup.
Blackmoor's John Carter, who plays off five, won the Pechell Trophy for the best nett score.
Other prize-winners included Michael Branfoot and David Speight (both Brokenhurst Manor), Vic Bourgoise, Peter Cunningham (Alderney) and Paul Robson (Royal Winchester).
Hampshire Seniors County Championship best scores: Alan Mew (Stoneham) 113 Trevor Gray (Royal Jersey) 113 Robbie Messervy (Royal Jersey) 116 Andy Palmer (Basingstoke) 117 John Carter (Blackmoor) 117 Brian Davies (Sandford Springs) 117 Paul Robson (Royal Winchester) 117 Vic Bourgoise (Royal Jersey) 117
Contributing Writer Golf courses and travel are Roderick's particular interests and he was contributing editor for the first few years of the Golf Monthly Travel Supplement. He writes travel articles and general features for the magazine, travel supplement and website. He also compiles the magazine's crossword. He is a member of Trevose Golf & Country Club and has played golf in around two dozen countries. Cricket is his other main sporting love. He is the author of five books, four of which are still in print: The Novel Life of PG Wodehouse; The Don: Beyond Boundaries; Wally Hammond: Gentleman & Player and England's Greatest Post-War All Rounder.