Bill Elliott's Open diary: stardate day seven
Golf Monthly Editor-at-Large Bill Elliott gives us his final installment from Royal Lytham and St Annes as the 141st Open Championship comes to a close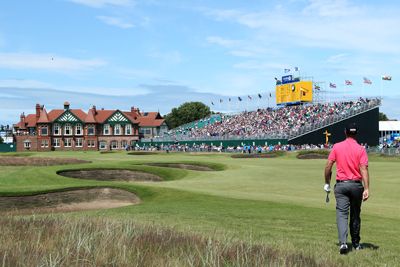 Another very decent day here but what I'm anticipating most is the predicted stiff wind due this afternoon when the leading groups are teeing off. I do hope we see this wind because (a) the course needs it to add real teeth and (b) I like few things more in life than sitting back and watching minted gofers suffer a wee bit. I know, it's a bit sadistic of me but, hey, don't you feel the same?
My pal Richard Wax does. Richard is a French-based golf nut and wacky entrepreneur. He's done a lot of things in his eccentric life but probably the one you'd like best is the wonderful Kingsbarns club that Richard encouraged into the world. Anyway, I had a chat over a glass or two today with Richard and he talked me through about a hundred of his latest wacky ideas.
The one I liked best - and he assures me this one will happen - is the Jazz Golf Club he has planned on a piece of real estate close to the Eurotunnel exit point in Calais. "Lots of people love jazz and golf so I thought why not combine the two. I've already got a jazz festival planned." Obvious, isn't it? But why stop at jazz, how about a rock'n'roll golf club, a classical music club, maybe there's even a market for a rap club. Then again, maybe not.
And that's it from Lytham for me. the rest of my day is going to be spent seriously watching the golf. As ever, The Open - the real Open - is set to start around four o'clock this afternoon and I wouldn't miss it for the world. Bye-bye.
Bill has been part of the Golf Monthly woodwork for many years. A very respected Golf Journalist he has attended over 40 Open Championships. Bill was the Observer's golf correspondent. He spent 26 years as a sports writer for Express Newspapers and is a former Magazine Sportswriter of the Year. After 40 years on 'Fleet Street' starting with the Daily Express and finishing on The Observer and Guardian in 2010. Now semi-retired but still Editor at Large of Golf Monthly Magazine and regular broadcaster for BBC and Sky. Author of several golf-related books and a former chairman of the Association of Golf Writers. Experienced after dinner speaker.