Darren Clarke wins the 2011 Open Championship
Golf Monthly's editor at large Bill Elliott on Darren Clarke's win and what it means for Northern Ireland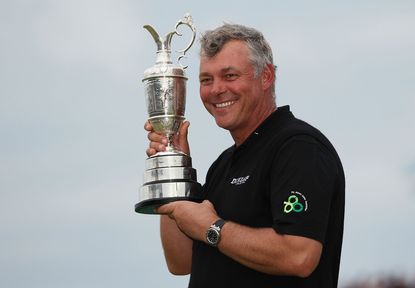 (Image credit: Getty Images)
EXTRAORDINARY, quite flipping
extraordinary. No sooner does a young Ulsterman called Rory knock off a United
States Open than another, older one called Darren cruises to victory in The
Open Championship.
I can't begin to tell you what this will
mean to my fellow countrymen and women back in the wee place. Okay, the idiots
will continue fighting but the overwhelming majority will wake up this week
feeling just that little bit better about life.
For Clarke this unexpected triumph - by him
as well as us - marks so much more than a great four days on a great golf
course. No, for DC this marks the true beginning of the rest of his life
following the loss of wife Heather five years ago.
The scars will always be there of course
but the tissue is now healed as he settles back into life in Portrush with his
sons and his new fiancée. I apologise if you feel this is all a bit too much
Mills&Boon but it remains a fact that life off the golf course is reflected
by play on it.
Clarke clearly deserved this victory after
playing by far the most superior golf. Up in Worksop another player would have
acknowledged this as he contemplated whether Chubby Chandler's men can now do
their own Grand Slam following Schwartzel at Augusta, McIlroy at Congressional and
Clarke at Sandwich. What odds Lee Westwood for the USPGA?
Bill has been part of the Golf Monthly woodwork for many years. A very respected Golf Journalist he has attended over 40 Open Championships. Bill was the Observer's golf correspondent. He spent 26 years as a sports writer for Express Newspapers and is a former Magazine Sportswriter of the Year. After 40 years on 'Fleet Street' starting with the Daily Express and finishing on The Observer and Guardian in 2010. Now semi-retired but still Editor at Large of Golf Monthly Magazine and regular broadcaster for BBC and Sky. Author of several golf-related books and a former chairman of the Association of Golf Writers. Experienced after dinner speaker.