VIVOBAREFOOT releases the new Hybrid Barefoot Golf shoe
The new VIVOBAREFOOT Hybrid Barefoot Golf shoe retails for £100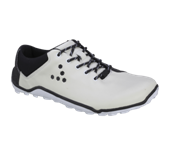 VIVOBAREFOOT has released their newest model of the Hybrid Barefoot Golf shoe.
Made from 20% recycled rubber, the terrain-specific grip eliminates the need for spikes on the course. With an ultra-thin, puncture-resistant leather sole, the shoe is suitable for golfing, hiking, and outdoor activities.
Vegetable tanned leather and rip-stop nylon trimmings provide durability and balance on the golf course. The shoe is water-resistant and exceptionally breathable, weighing only 295g in the men's model and 193g in the women's.
The men's and women's shoes are both offered in black and white, while the men can select dark brown, and the women can choose the grey and crimson option.
Both the men's shoes and women's shoes are priced at £100. VIVOBAREFOOT Hybrid Barefoot Golf shoes are available online or in stores located in London, Brighton, and Spitalfields.