Talon training aid offers real time set-up feedback
The Talon training aid delivers real time visual feedback on set-up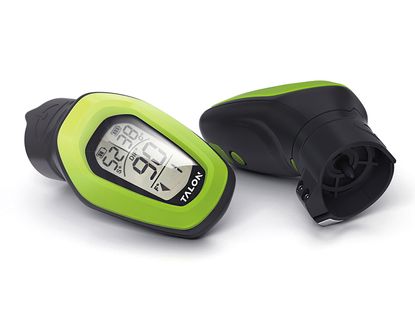 Ojee Golf has unveiled its revolutionary Talon training aid, which delivers real time visual feedback on your set-up, posture and face angle at address
Ojee Golf has unveiled its revolutionary Talon training aid, which delivers real time visual feedback on your set-up, posture and face angle at address.
The Talon training aid is the brainchild of Teesside-based product designer Matt Hulbert and his father Paul, and enables golfers to view their stance and then adjust to their best position, improving muscle memory, consistency and performance.
Following its airing on crowd funding platform INDIEGOGO the brand has raised nearly £7,000 - 40 per cent of its £20,000 goal - during its first 24 hours, with the total going towards further development of the product.
The Talon training aid uses a digital display unit that attaches to the top of any golf club, together with a separate wireless back unit. The units work together to remove guesswork by calculating and clearly displaying four critical angles: spine angle, club shaft angle, club shaft to spine angle, and rotation angle of the club face.
The product is currently available exclusively to the INDIEGOGO community, and will go to retail in the not too distant future pending more testing and further developments.
Company director Matt Hulbert said: "We had hoped to make a splash in our first week on INDIEGOGO, and we're thrilled that the reaction has been great so far.
"It's fantastic to see the word getting out about Talon, which, we believe, fills the gap in the market for a golf stance improvement tool with real-time feedback.
"We are all physically different, but we all share a common golfing problem: being able to consistently reproduce the exact same swing over and over again in all situations – we believe Talon is the solution."
Visit http://igg.me/at/ojee-golf-talon to find out more and pre-order Talon.
Jake O'Reilly specilaises in equipment coverage, and joined the Golf Monthly team in 2013. Before this he graduated from the University of Huddersfield with a Sports Journalism and Media degree, and worked at a number of British golf magazines. Follow Jake on Twitter
@jake0reilly