Srixon wins "Golf Ball of the Year" award
Srixon has claimed the "Golf Ball of the Year" title at the Foremost Golf gala dinner 2011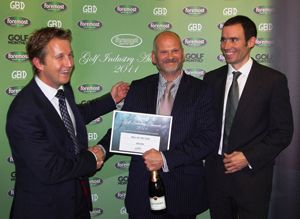 Srixon has once again earned the prestigious "Golf Ball of the Year" award at the Foremost Golf gala dinner.
The award was presented by Andy Martin, direct of Foremost Golf, ahead of the PGA Show in Harrogate on October 24.
Leslie Hepsworth, president of Srixon Sports Europe, received the award and said: "This is wonderful recognition by the green grass professionals and the group, which comes on the back of record sales across all categories of golf balls in 2011.
"Amazingly this award has been won without the additional impact of the fifth generation AD333 which is being launched at the show and continues to be the UK's number one selling two-piece golf ball.
"The company would like to take this opportunity to thank all of its loyal customers for their support during the year, we would also like to thank them for their vote of confidence in giving us this award."