New 2018 Callaway Chrome Soft Balls Revealed
The 2018 Callaway Chrome Soft balls have been revealed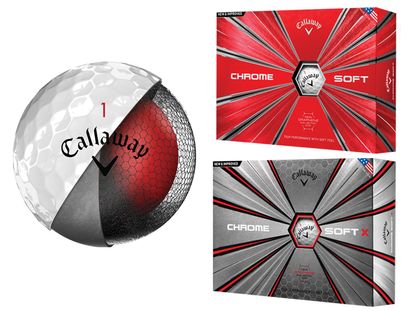 The 2018 Callaway Chrome Soft balls have been revealed and look set to build on the success of the original Chrome Soft and Chrome Soft X models
The 2018 Callaway Chrome Soft balls have been revealed and look set to build on the success of the original Chrome Soft and Chrome Soft X models.
For the 2018 Callaway Chrome Soft ball a new Graphene Dual SoftFast Core is undoubtedly the headline change.
It sees graphene - a material stronger than diamond - infused into the outer core. By using a stronger material, the outer core could be made thinner, which in turn allows for a larger, but still soft, inner core.
This larger inner core allowed Callaway to enhance the ball's speed and reduce long game spin for more distance, while retaining the soft feel benefits of the original Chrome Soft balls.
To maintain control on mid-irons, short-irons and wedges you still get a fast Sub-Mantle layer, while the thin, ultra-soft, urethane cover generates high spin on pitches and chips. For 2018 this cover is actually softer to help produce more greenside spin.
Of the two models, the 2018 Callaway Chrome Soft offers the softest feel, while the 2018 Callaway Chrome Soft X delivers lower spin and firmer feel for faster swinging players.
Versus the original Chrome Soft models they replace, the X ball has undergone the bigger transformation. It has a reduced spin profile through the bag so you will now find a firmer overall feel, while still retaining excellent spin around the greens.
Callaway says the differences between the balls are mostly focused on feel and if you have a swing speed in the higher ranges - roughly 105mph and above - you might be an ideal candidate for the X, as its increased firmness will convert more driver head speed to ball speed, compared to standard Chrome Soft.
There will also be a 2018 Callaway Chrome Soft Yellow ball (above) that combines all the above features with a high visibility yellow design, while a Truvis option is expected to join the range later in the year.
2018 Callaway Chrome Soft Balls - Details
Both the 2018 Callaway Chrome Soft balls will go on sale on the 16th of February and both will cost £37.99 per dozen.
Jake O'Reilly specilaises in equipment coverage, and joined the Golf Monthly team in 2013. Before this he graduated from the University of Huddersfield with a Sports Journalism and Media degree, and worked at a number of British golf magazines. Follow Jake on Twitter
@jake0reilly