Limited edition Titleist Pro V1 numbers launched
Limited Edition Titleist Pro V1 and Pro Vx golf balls have been revealed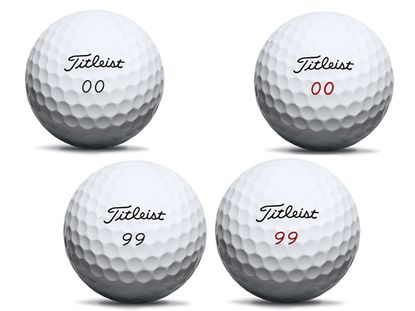 Limited Edition Titleist Pro V1 and Pro Vx golf balls have been revealed, featuring double digit numbers for those looking to stand out from the crowd
Limited Edition Titleist Pro V1 and Pro Vx golf balls have been revealed, featuring double digit numbers.
From the 2nd of November, golfers will be able to get hold of both the softer feeling Titleist Pro V1 and lower spinning Pro V1x models featuring '00' and '99' stamped numbers, which its says are ideal for those who want to stand out from their friends on the golf course.
Trusted by the world's best players right down to club golfers across the world, the legendary Pro V1 franchise has led the way for golf ball performance since its initial launch 15 years ago on the PGA Tour.
Related: Titleist Pro V1 celebrates 15 years at number one
In the above video Golf Monthly's Digital Editior Neil Tappin tests the Pro V1 and Pro V1x.
This year, the Pro V1 and Pro V1x continued their success across all levels of the game, again completing a clean sweep as the most trusted golf ball at all four of the Major Championships, with Titleist staffer and Pro V1x user Jordan Spieth claiming two of them at The Masters and the US Open.
Related: Jordan Speith's 5 secrets to being a complete player
Now, golfers across to the UK have the opportunity to experience the feel and consistency Spieth enjoyed of with the limited edition Titleist Pro V1 numbers, which will be black on the limited edition Titleist Pro V1, and red on the limited edition Titleist Pro V1x.
For more information on the limited edition Titleist Pro V1, visit www.Titleist.co.uk.
Titleist Pro V1 stats
Two out of every three golfers across the major worldwide tours play the Titleist Pro V1 or Pro V1x.
The Pro V1 franchise has accounted for 2,374 worldwide wins since its debut at the PGA Tour's 2000 Invensys Classic in Las Vegas.
According to Golf Datatech through September 2015, the Pro V1 has been the best-selling golf ball for 175 consecutive months.
Jake O'Reilly specilaises in equipment coverage, and joined the Golf Monthly team in 2013. Before this he graduated from the University of Huddersfield with a Sports Journalism and Media degree, and worked at a number of British golf magazines. Follow Jake on Twitter
@jake0reilly