FootJoy Reveals Green Leathers for Masters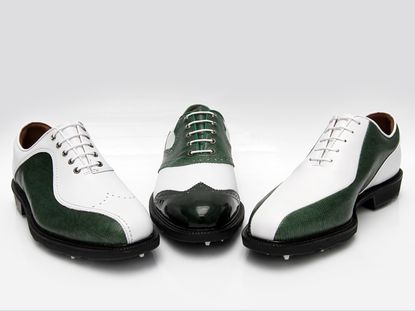 FootJoy is ushering in the 2015 golf season with the launch of limited-edition Green Leathers golf shoes, inspired by The Masters
FootJoy is ushering in the 2015 golf season with the launch of limited-edition Green Leathers golf shoes, inspired by The Masters.
In time for the first Major Championship of 2015, a number of green lizard-print leathers will be offered across several of FJ's best-loved styles, including FJ Icon, which can now only be purchased through MyJoys.
A complementary dark green patent leather print is also being made available in limited quantities.
Other models that can be designed with the new leathers are DryJoys Tour for men and DryJoys Sport, LoPro Collection and LoPro Casual for ladies.
Each of the limited-edition Green Leathers being offered can be viewed at http://www.footjoy.co.uk/aprilgreens2015 and are available to purchase while stocks last.
MyJoys offers consumers over 14 million ways to customise their footwear, including exotic print leathers, monogramming, country flags and logos in both spiked and spikeless options for men and women.
"We continually strive to provide ways in which golfers can have fun with their footwear and create designs that are unique to them," said FJ Marketing Executive, Paul O'Hagan.
"That is exactly the purpose behind the Limited Edition Green Leathers, which have been released to coincide with the first Major of the year, taking place at Augusta National this week.
"The new leathers have been inspired by the famous Georgia venue and will give golfers the chance to design one-of-a-kind shoes to set themselves apart on the golf course. We expect these to be highly popular so would advise those interested to move quickly to avoid disappointment."
A US native, Taylor enjoys hacking from the rough and scrambling to save bogey on a par 3. Follow Taylor on Twitter @taylorumland