PING G10 irons fitting
Alex Narey visited PING's custom-fitting centre in Gainsborough and walked away with a new set of PING G10 irons. Here, he talks through the process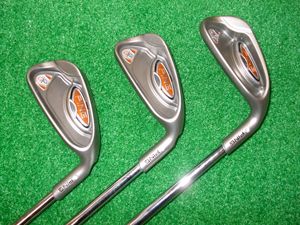 Golf Monthly Newsletter
Golf tips and expert instruction, golf club reviews and the latest golf equipment.
Thank you for signing up to . You will receive a verification email shortly.
There was a problem. Please refresh the page and try again.
"What's the first thing you do when you buy a new car," asked Julian Clay, Ping's European custom-fitting manager, on the short drive from Repton train station to our Gainsborough base. Go for a drive? Check the oil? Cruise around the town attempting to look cool? "You make sure your seat and mirrors are suited to your height and comfort. Golf is no different. Everything should be fitted to the individual's needs."
Now this is a refreshing thought, especially for a guy who for the last two years has been scratching around looking for excuses as to why his game is not heading in the right direction. Custom-fitting was actually a concept I had long considered before I joined the staff at Golf Monthly in the summer. I had seen at close quarters the positive impact it can have on one's game, with a close friend and weekend-playing partner being fitted out by Ping a little over a year ago.
The results don't lie; they are recorded every week (rather infuriatingly) on my pal's scorecard during our four-ball. In the space of 12 months he has gone from a 19-handicapper down to 13 – although he is regularly punching in scores in the high 70s. Seeking the same game-improvement, it was little wonder my hand went up quickly when the opportunity came up for one of the GM Team to head north for a one-to-one fitting session with the experts.
Arriving in Gainsborough, where Ping's European headquarters lie, I was filled with the usual sense of trepidation. Having my swing analysed to such a degree would no doubt highlight some long-term healers for positive effect. But as usual there were the post-nudge nerves. Would there be anything that even the most advanced technology could do if the patient proceeded to knife them down the middle.
Thankfully, this was never a cause for concern, but my over-generous draw certainly gave Julian plenty to think about. What quickly became apparent was my posture; at 6ft 1ins the standard-length clubs I was previously using were deemed too short, and so Julian quickly adjusted my shaft length on the G10 irons to give an extra 1/2 inch. This would not only help me in my set-up, but also fight against any back and side issues that such a strain could result in.
Kicking off with regular shafts in a 7-iron, Julian was now able to focus his attention on the Trackman system that would send the data of the shots to 'nflight' – the software that is capable of recommending thousands of club combinations. With the hook still an issue, the club set-up became clearer. The regular shaft was switched for stiff, and the clubs were made 3.75 degrees more upright to compensate for the added shaft length. Job done!
But the tailoring session didn't stop there. With Ping's gapping system, Julian was able to calculate – with the help of the 'nflight' system – the ideal combination of clubs, including wedges, hybrid, and fairway wood – this is done by hitting two shots with the hybrid, wedge and 7-iron. Maybe I got lucky, but the technology quickly identified the complete set with almost perfect results that produced consistent gapping between clubs of around eight to ten yards.
There is no doubt the immediate effect that custom-fitting can produce, and for those looking to make that step from high handicapper to mid level should seriously consider the outlay of acquiring the tailored set. Times may be tough in the economic sense, but surely investing in the ideal set for the long-term will be better for your wallet – not to mention your game and good health.
Alex began his journalism career in regional newspapers in 2001 and moved to the Press Association four years later. He spent three years working at Dennis Publishing before first joining Golf Monthly, where he was on the staff from 2008 to 2015 as the brand's managing editor, overseeing the day-to-day running of our award-winning magazine while also contributing across various digital platforms. A specialist in news and feature content, he has interviewed many of the world's top golfers and returns to Golf Monthly after a three-year stint working on the Daily Telegraph's sports desk. His current role is diverse as he undertakes a number of duties, from managing creative solutions campaigns in both digital and print to writing long-form features for the magazine. Alex has enjoyed a life-long passion for golf and currently plays to a handicap of 13 at Tylney Park Golf Club in Hampshire.