Sir Michael Bonallack: Britain's greatest amateur
A profile of Sir Michael Bonallack - player, captain, administrator and ambassador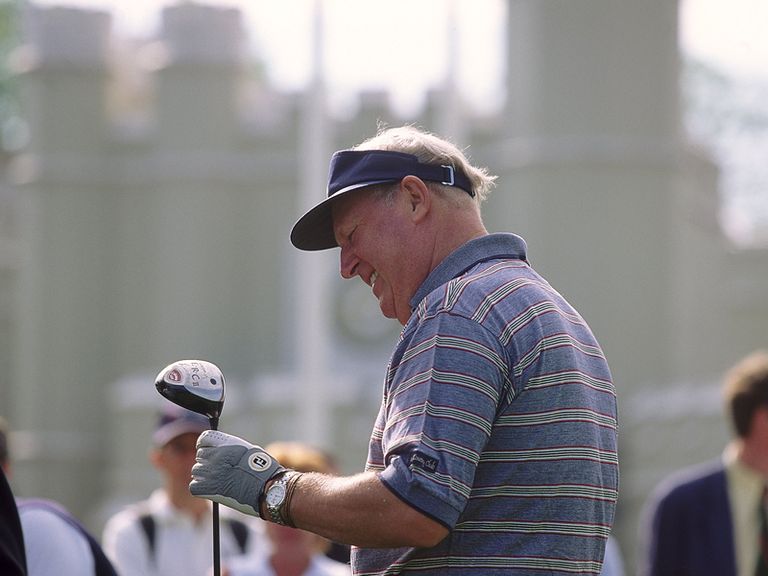 (Image credit: Getty Images)
A profile of Britain's best ever amateur golfer Sir Michael Bonallack. The Englishman enjoyed fantastic success as a player and went on to achieve great things in golf as a captain, administrator and ambassador.
The summer of 1968 was a glorious one in the playing career of Michael Bonallack. That season the, then, 33-year-old completely dominated the domestic amateur game. He won the third of his five amateur championships at Royal Troon, his fifth English amateur title, the Brabazon trophy and the silver medal as leading amateur in the Open championship at Carnoustie.
30 years later, in 1998, Bonallack received the most esteemed of his numerous awards, as he knelt before the Queen and was knighted for his services to golf.
Few, if any, have had such a wide-ranging and significant life in golf as Sir Michael Bonallack. As a player, administrator, ambassador and captain, the Englishman has achieved on many different levels.
Born in Chigwell, Essex in 1934, Bonallack first showed an aptitude for golf on a family holiday to Devon when, at the age of 10, his parents spotted his skill during a knock-around on the beach. He was quickly given membership at Chigwell Golf Club and began to receive coaching from the club pro. Bonallack improved swiftly and, in 1952, he won his first major amateur title – The British Boys.
Five years after that, Bonallack was selected for his first Walker Cup team and he was to play in nine straight matches from 1957 to 1973. In 1971 he was playing captain of the home team that won the Cup at St Andrews, the first time GB&I had lifted the trophy since 1938. "It does not get, cannot get, any better than that," he said of captaining the side.
An extraordinary short-game was the foundation of Bonallack's success as a golfer. In the final of the 1963 English amateur championship, Bonallack got up-and-down no less than 22 times over the 33 holes he required to see off a shell-shocked Alan Thirwell.
Improve your chipping technique video:
Despite Bonallack's obvious skill as a player, he elected to remain an amateur. At a time when professional tournament purses were a fraction of what they are today, Bonallack chose to make his living working in his family coach-building business. "I didn't think I was good enough until I was too old." He said. "When I saw how good Jack Nicklaus was and compared that to how good I thought I was, there was a big difference. I thought, 'I might starve if I turn professional.'"
He played simply for the love of golf. When secretary of the R&A he was once asked: "Most people play golf to escape work. What do you to relax?" "I play golf." He replied without hesitation.
Although his accolades as a player are highly notable, Bonallack's post-competitive career has, perhaps, been even more impressive. He spent a decade working for a golf course design and construction company before being appointed secretary of the R&A in 1984.
During his tenure in St Andrews, he was instrumental in guiding the sport of golf towards the 21st century, expanding The Open Championship and re-investing heavily in the development of the game. "He's bridged the gap between the history and heritage of the Open championship and golf in general as it moved into the commercial age and he's done it with great taste and tact." Said the late Mark McCormack, former chairman of IMG.
Amongst other roles, Bonallack was chairman of the European Tour between 1976 and 1982, chairman of the Golf Foundation from 1977-1982 and president of the EGU in 1982. He received the USGA's Bob Jones award for sportsmanship in 1972 and was inducted into the World Golf Hall of Fame in 2000. In 1971 he was awarded an OBE and, in 1998, was made a knight. In 1999 he was captain of the R&A.
Bonallack's contribution to golf has been remarkable. He's dedicated his life to developing and forwarding the sport and will, surely, always retain the tag of Britain's best ever amateur.
ESSENTIALS Date of birth: December 31 1934 Place of birth: Chigwell, Essex, England Career highlights: - British amateur champion – 1961, 1965, 1968, 1969, 1970 - English amateur champion – 1962, 1963, 1965, 1967, 1968 - Walker Cup – 1957, 1959, 1961, 1963, 1965, 1967, 1969, 1971 (playing captain,) 1973 - 1971 received OBE - 1972 USGA Bob Jones award - 1984-1999 secretary of the R&A - 1998 received knighthood - 1999 captain of the R&A - 2000 inducted into World Golf Hall of Fame