Our Top 10 Golfing no nos
From black gloves to orange balls and Ian Poulter headcovers: our lighthearted take on some of the game's top no nos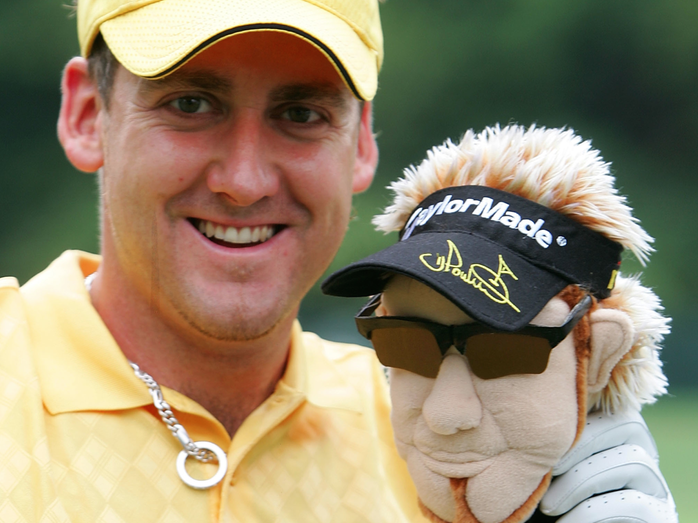 (Image credit: Getty Images)
A lighthearted look at 10 golfing no nos for any serious golfer… don't be too offended if something you own features on this list – it's only a bit of fun!
A lighthearted look at 10 golfing no nos for serious golfers… please don't be too offended if something you own features on this list – it's only a bit of fun!
Shorts with black socks and/or shoes
Golf isn't tennis and most golfers' legs aren't like Pat Cash's, so the general rule would be to cover them up please. If you're golfing in hot and humid climates, you may be excused, but not if you combine your shorts with black socks and/or black shoes as Brits are occasionally inclined to do. Top of our golfing no nos.
Towel clipped to belt
Just wrong, full stop – it's a bit like wearing a sporran without a kilt.
Novelty Ian Poulter headcover
Why, just why? We like a bit of Ian Poulter, but one of the man is surely enough for anyone, even the no-doubt devoted Mrs Poulter. Thanks goodness they never introduced any 'Ian Poulter Ryder Cup expressions' special editions.
Score clicker
If you really can't remember how many shots you've played, is there not perhaps a strong argument that you maybe shouldn't be playing at all?
Sponge ball cleaner
Too many things dangling from your bag destroys all credibility, but this is perhaps the worst of the bunch. Typically made from a blue rubbery material with a bright yellow sponge. May we politely ask what's wrong with a small golf towel?
Black golf glove
You're not Alvin Stardust – God rest his soul - so don't do it.
Orange golf ball
Another poor colour choice only ever likely to boost the confidence of opponents. Yes, yes, they show up better in the frost, but how often do you really feel like playing when it's that cold outside?
Ball monogrammer
The staple of many a Christmas stocking, but why spend hours stamping your initials on your golf balls with something akin to a nutcracker when you're only going to lose them within milliseconds anyway?
Ball retriever
Stop for a moment and think what message this sends out to your opponent. Something along the lines of, "Sorry, I'm not very good and am likely to spend half the round fishing balls out of unpleasant spots." Cue massive confidence boost to opponent! Would you really rather save a few bob than win that important match?
Plastic 'castle' tees
Question: How are you supposed to vary tee height as and when conditions dictate with these fixed height offerings? Answer: With great difficulty.