6-year-old makes incredible hole-in-one
It happened during the young boy's first competition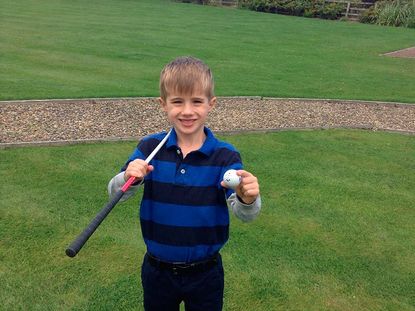 It was George's first experience of 18 holes and his first competition.
A 6-year-old boy made an incredible hole-in-one during a club competition on Sunday.
George Ovenden, playing alongside his father, Jonathan, and friend, Michael Moult, was playing in his first competition at Alnmouth Golf Club.
Although George, who only turned 6 in July, has been practising on the driving range and in his garden for the last two years, this was his first attempt at 18 holes on a proper course.
As George, Jonathan and Michael approached the 160 yard par 3 fifth hole, few could have forseen what was about to happen.
With Jonathan, playing off a 13 handicap, and Michael, playing off 6, both missing the green, they told George, playing off the junior tee at 100 yards, he would need to produce something special.
Not even they could have imagined that he would make his first ace, with others on the course watching on in amazement.
Had a Hole In One Recently? Join our Hole-In-One Club
George, who had been given a 54 handicap, used his hybrid from his Dunlop junior set to pull off the amazing feat.
WATCH: How to play par 3s
Jonathan said: "He is a lovely boy and has really progressed well at golf through lots of practice and enthusiasm.
"This was his first ever full 18 holes although he has played 7 holes once and 13 holes once before."
He received a standing ovation at the clubhouse as the trio won the tournament, a Texas Scramble junior event named the Peter McIlroy Cup.
RELATED: The curse of the long par 3
With par set at 71, the team finished with gross 68 and took away 14.6 for their handicap, leaving them with a signifcant winning margin.
Jonathan added: "It was an astonishing moment. I still can't believe it. It was a big occasion at the club and several others saw him do it."
"It was a great looking shot and flew high, one bounce and then started tracking towards the pin.
RELATED: 11-year-old makes first hole-in-one to earn a puppy
Will Medlock graduated from UEA with a degree in Film and Television before completing a Masters in Sports Journalism at St Mary's in London. Will has had work published by The Independent and the Rugby Paper.