32% of golfers would ditch sex to play golf
A Golf Monthly poll has revealed 32% of golfers would give up sex over golf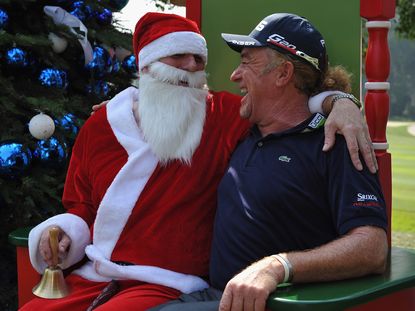 (Image credit: Getty Images)
A Golf Monthly poll has revealed an astonishing 32% of golfers would rather give up sex than pack away their clubs for good, while 52% would give eating meat the boot to keep hitting the fairways
In a surprising poll ran on the Golf Monthly forum, an astonishing 32% of golfers revealed they would rather give up sex than pack away their clubs for good, while 52% would give eating meat the boot to keep hitting the fairways.
Asked a range of hypothetical questions to determine their love for the game, Golf Monthly's forum members didn't disappoint.
Apart from giving up sex, where 68% of golfers said they would pack in the sport, in all other categories playing golf got the vote.
Perhaps the biggest thing to fall by the wayside was eating meat, with 52% of golfers happy to give up Sunday roasts and barbecues if it meant they could keep playing in Medals and Stablefords.
The next closest contest was going on holidays, with two thirds of voters happy to shun a few weeks in the sun for hours of enjoyment at their local course.
Other categories includes 'Golf vs playing and watching sport', where only 18% of voters would opt to give up golf, and 'Golf vs Birthdays and Christmas', which saw 72% give presents the boot.
For the full results scroll down to the bottom of the page, or join the forum and cast your vote here (opens in new tab).
Commenting on some tough decisions, Golf Monthly forum (opens in new tab) members said:
drewster The only one I'm not giving up is Birthday and Christmas because that is prime time for getting new golf stuff !!!!!
matt71 What I want and what I get are two different things ;)And this is shown in my vote lol
Full Golf Monthly poll results
67.96% give up golf, while 32.04% give up sex 48.12% give up golf, while 51.88% give up meat 33.33% give up golf, while 66.66% give up going on holidays 18.45% give up golf, while 81.55% give up playing and watching sport 28.44% give up golf, while 71.56% give up their Birthday and Christmas
Poll votes accurate as of June 1st, 2015.
Jake O'Reilly specilaises in equipment coverage, and joined the Golf Monthly team in 2013. Before this he graduated from the University of Huddersfield with a Sports Journalism and Media degree, and worked at a number of British golf magazines. Follow Jake on Twitter
@jake0reilly