Q School Blog: Day two, Final stage
Ross Biddiscombe reports on another crazy day at Q-School, the final stage, where Oskar Henningsson leads the way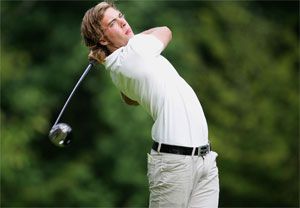 It was a crazy second day at Q School Final Stage. While the triumphs and tragedies are just around the corner, there was the craziness along with evidence of sheer bravery and downright calamity as the sun continued to shine at PGA Catalunya.
No 1 in the crazy stakes was South African Darren Fichardt. How can a player of his experience shoot 7 over on day one and then 7 under on day two? OK, so he played the easier course today (the Red), but he actually shot 9 birdies! Almost as crazy was Phil Golding who matched Fichardt on day one with a 79 on the harder Green course, yet was tee-to-green perfect in a 5 under score on day two. Phil, of course, features in my Q School book, so I was as pleased as punch that my little breakfast pep talk did the trick.
His coach (who also caddies for him) Jason Bunting said the change in Phil was astounding. "We were out early on day one and it was cold and foggy; he suffered a couple of early birdies and it bothered him more than usual. Today, though, he was superb and he could've shot even lower."
I'm sure Jason was about to say "And you're pep talk helped, Ross" when Phil arrived and we shook hands as I congratulated him. Anyhow, Phil will get another pep talk tomorrow whether he likes it or not.
Maybe even crazier was Scotland's Grieg Hutcheon. "It was teddy bears picnic stuff on the front nine," said Grieg who found himself in the woods too often on his way to an outward 4 over par 39. However, just over two hours later, he had hit six birdies and only one bogey to come home in 30 for a 3 under 69. These is head-shaking stuff, indeed.
I followed Open Championship silver medal winner Chris Wood who had a bogey-less 5 under score to rocket from tied 82nd to tied 17th – also a crazy kind of surge. He looked very good, though, as did the other two newly-minted amateurs in his threeball: Danny Willett of Yorkshire (6 under after two rounds) and former British Amateur champion Paul Guerrier of France (2 under).
The debate here in Spain are the greens (aren't they ever?) and whether they are up to standard for such a prestigious event. Of course, the players who are holing putts haven't noticed, but some elder statesmen have made grumbling noises and only admit that torrential rain on the day before the tournament began may have something to do with it. Even PGA European Tour players in the making can't battle God.
However, there are some guys playing like gods: Oskar Henningsson of Sweden is three in front already on 11 under. But if that's the triumph, then the tragedy was Rafael de Sousa of Switzerland. He'd struggled a bit, it's true, on day one, but when he had a 10 on the par 5 15th today he shot to the bottom of the field on 16 over, just 27 shots behind the leader.
It's not really a laughing matter; in fact, there aren't many laughs at Q School, especially as the six-round event reaches its climax. However, if you shoot 5 over on a single hole then it's either levity or tears. And I know which one I'd rather choose.
Click on the link for more on Ross' book Golf On The Edge: Triumphs & Tragedies Of Q School
Get the Golf Monthly Newsletter
Tips on how to play better, latest equipment reviews, interviews with the biggest names and more.
Ross is a Q-School expert.