McDowell breaking putts video
Graeme McDowell explains how to read and visualise breaking putts so that you can get the ball in the hole in fewer strokes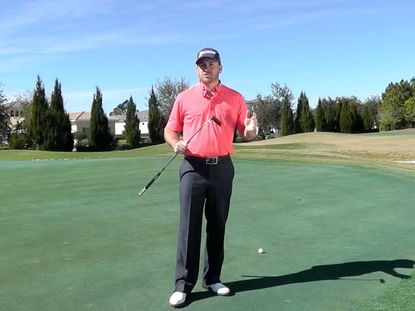 Graeme McDowell explains how to read and visualise breaking putts so that you can get the ball in the hole in fewer strokes
Breaking putts
I see a lot of amateurs falling in love with starting lines when it comes to breaking putts. To me that is really trying to apply something that is logical and very precise to something that is more creative than that.
When faced with a putt with plenty of break, I really like to try and get an image in my head of what the putt is going to look like in the form of an arc.
What this arc gives me is a point at which the ball is going to enter the hole. For a dead straight putt, the ball will enter the hole at 6 o'clock, while a putt with lots of break might enter the hole at around 9 o'clock.
This is a really good point to visualise and base your feel on. You can then turn a breaking putt into a creative play because it is so hard to pick a precise starting point when there is so much swing.
Look to align and position your body focusing on that entry point and you should really get a feel for the direction and the pace. My advice is simple, get creative rather than getting so caught up on your starting line.
Remember!
Picture what the putt is going to look like in the form of an arc
Pick a point at which the ball will enter the hole
Dead straight putts enter the hole at 6 o'clock
Big breaking putts might enter the hole at 3 or 9 o'clock
Be creative rather than logical and precise
Something else to try on breaking putts is finding your aim line and placeing your ball so that you can see the logo along this line. You could also draw a straight line on your ball with a sharpie and use that instead.
Then just rely on the hill to divert your ball towards the hole. Essentially you're turning every putt into a straight putt, no matter what the actual break of the putt.
Tom Clarke joined Golf Monthly as a sub editor in 2009 being promoted to content editor in 2012 and then senior content editor in 2014, before becoming Sports Digital Editor for the Sport Vertical within Future in 2022. Tom currently looks after all the digital products that Golf Monthly produce including Strategy and Content Planning for the website and social media - Tom also assists the Cycling, Football, Rugby and Marine titles at Future. Tom plays off 16 and lists Augusta National (name drop), Old Head and Le Touessrok as the favourite courses he has played. Tom is an avid viewer of all golf content with a particularly in depth knowledge of the pro tour.