Golf in Central Portugal
Portugal has plenty of well-known golfing hotspots, but the central region is also blessed with some refreshingly varied golf...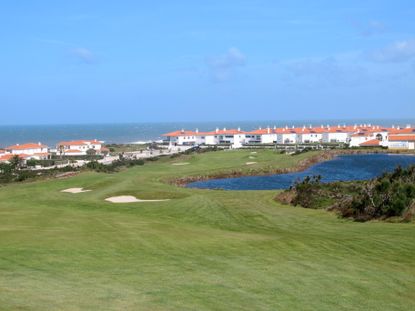 Portugal has plenty of well-known golfing hotspots, but the central region is also blessed with some refreshingly varied golf...
Golf in Central Portugal
Having enjoyed the courses of Northern Portugal (opens in new tab) the year before, I was looking forward to another area new to me for golf. Lisbon is an exciting city in its own right, and also the gateway to Estoril and Cascais which attract legions of golfers. Not so many, however, head a little further afield and up towards the Central Region. Just an hour or so from the city is a triangle of very enjoyable courses, and there is another halfway there that makes for a perfect start or end to such a trip.
CampoReal
CampoReal (opens in new tab) is just 25 miles from the airport and yet so different is the scenery and pace of life that it feels like ten times the distance. The course is wonderfully secluded, running up through hills and along lush green valleys surrounded by vineyards, all the time offering ever-changing vistas.
There is great variety throughout with a real climb early on, and the front nine closes with a short par 4 involving an exciting drive across water.
The back nine is just as distinct and closes with back-to-back par 5s, and I particularly liked the 14th where a diagonal stream poses real problems on the tee.
The hotel is very smart and has a wide variety of accommodation with each restaurant offering a different menu. There are plenty of other activities such as the spa and an equestrian centre.
Praia D'El Rey
This lovely course was designed in the mid-90s by Cabell Robinson. Some holes run through the forest, others run free among the dunes. In the latter category, I particularly liked the fabulous 4th with its green next to a dune the size of a small mountain.
The stretch from twelve round to fifteen is very wild and attractive - it will certainly blow any cobwebs away.
Praia D'El Rey (opens in new tab) has a second course opening in the middle of 2017 and early reports suggest that it is likely to be very special - stand by for more…
Bom Sucesso
Here at Bom Sucesso (opens in new tab) there are several very strong and attractive holes, with the best on the front nine being the par-5 2nd that sweeps round to the right skirting a large water hazard.
To my mind, however, the course really takes off on the back nine with several very strong and scenic holes, especially the closing three. Seventeen is the signature hole with a drive to what appears to be an infinity fairway before you slalom down to a green with the glorious backdrop of Obidos Lake.
The onsite contemporary hotel is expected to open this year and there is plenty of accommodation available in the onsite villas and apartments.
Royal Obidos
The late, great Seve Ballesteros (opens in new tab) designed the course at Royal Obidos (opens in new tab) and it shares many of his characteristics; style, flamboyance, a touch of eccentricity, and a real sense of fun.
There is great variety and an early highlight is the short 3rd which is a real beauty to a semi-island green.
At the 14th a waterfall feeds into a lagoon that flanks the green and there is yet more water at the pretty, par-3 15th.
The course is kept in tip-top condition and is one of which you could never tire. Standing on the hillside above is the very smart and modern Evolutee Hotel.
With the lovely old town of Obidos nearby, this is yet another outstanding region for holiday golf and I very much look forward to returning.
Rob Smith has been playing golf for more than 40 years and been a contributing editor for Golf Monthly for over ten years, specialising in course reviews and travel. He has now played more than 1,170 different courses in almost 50 countries. Despite lockdowns and travel restrictions in 2021, he still managed to play 80 different courses during the year, 43 of them for the first time. This included 21 in 13 days on a trip to East Lothian in October. One of Rob's primary roles is helping to prepare the Top 100 and Next 100 Courses of the UK&I, of which he has played all but nine. During the 2021-22 review period, Rob has played 34 of the Golf Monthly Top 200. He is a member of Tandridge Golf Club in Surrey where his handicap hovers around 16. You can contact him at r.smith896@btinternet.com.