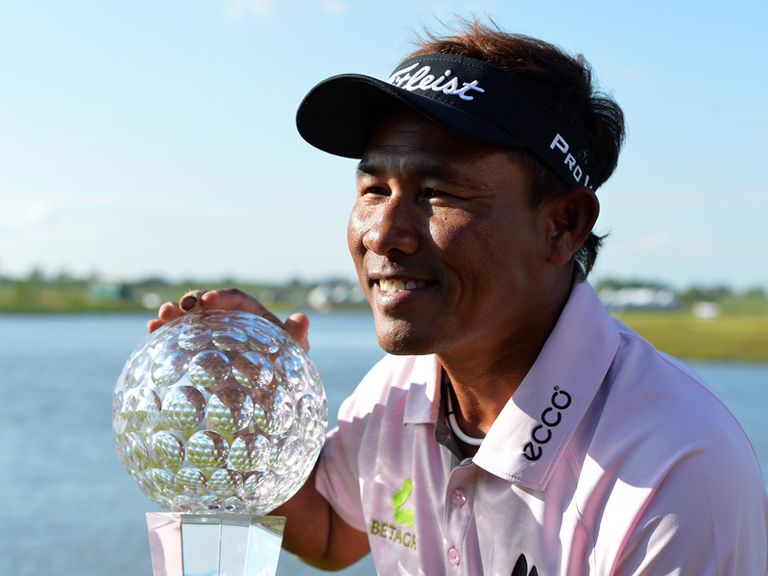 (Image credit: Getty Images)
A look at the players who have qualified to play at the 2015 Open Championship at St Andrews By Jac de Wet
Open 2015 players: Asia
The contenders from Asia most likely to do well in the Open are Japanese international Hideki Matsuyama and Thailand's Thongchai Jaidee.
Although neither have an Open Championship title to their name, Matsuyama (currently ranked 24th in the world) came close with a valiant effort producing a T6 finish in the 2013 Open.
He also came 5th in this years Masters Tournament and 18th in the US Open this year, so therefore could prove to be a real force heading into next weeks competition.
Take a look at the history of St Andrews in the video below
The other leading contestant from Asia is Thongchai Jaidee who is 33rd on the world rankings . His best result came in the 2009 Open Championship where he came 13th.
Name: Byeong-Hun An
Nationality: South Korean
Best Place in an Open: 26th
Name: Kiradech Aphibarnrat
Nationality: Thai
Best Place in an Open: 1st
Name: Hiroyuki Fujita
Nationality: Japanese
Best Place in an Open: 41st
Name: Yuta Ikeda
Nationality: Japanese
Best Place in an Open: 38th
Name: Thongchai Jaidee
Nationality: Thai
Best Place in an Open: 13th
Name: Anirban Lahiri
Nationality: Indian
Best Place in an Open: 31st
Name: Hideki Matsuyama
Nationality: Japanese
Best Place in an Open: 6th
Name: Koumei Oda
Nationality: Japanese
Best Place in an Open: 39th
Name: Tadahiro Takayama
Nationality: Japanese
Best Place in an Open: 23rd
Name: Taichi Teshima
Nationality: Japanese
Best Place in an Open: N/A
Name: Liang Wen-Chong
Nationality: Chinese
Best Place in an Open: 64th
Name: Gunn Yang
Nationality: South Korean
Best Place in an Open: 26th