"I had a hunch Stephen would get a pick" Bernard Gallacher
Three-time Ryder Cup captain and European Tour legend Bernard Gallacher spoke exclusively to Golf Monthly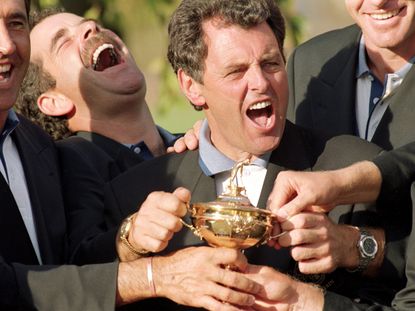 Three-time Ryder Cup captain and European Tour legend Bernard Gallacher spoke exclusively to Golf Monthly in the wake of Paul McGinley's three wildcard picks, with his nephew Stephen set to make his debut at Gleneagles
2014 Ryder Cup Blog: Bernard Gallacher
Bernard, as a former Ryder Cup captain, we guess you can appreciate how difficult a decision Paul McGinley had to make with his wildcards?
Well I can, but the wildcard picks are one of the most anticipated events in the Ryder Cup – the three guys who get picked seem more important than the top three guys. The picks have become a bit of a marketing tool if you ask me, but that said you have to get them right and this time round it wasn't easy.
You were captain in 1991, 1993 and 1995 – did you have any issues with your wildcards?
Ha ha, no! My wildcards on the whole were quite easy! I had to give a wild card to Nick Faldo when he was world number one! I had to pick guys who hadn't played enough to qualify. I've never been a big fan of wildcards to be honest. For me the best system is telling players what they've got to do.
Of course the big talking point is your nephew Stephen getting his pick, and Luke Donald having to miss out…
Yes, a tough decision, no doubt. But Stephen has come into form, and Paul has obviously gone with that.
As your nephew, you must be delighted, but did you see it coming?
Well I had a hunch, but I wasn't 100% certain because you never can be. You have to balance up a number of things, and I could see what would be going through Paul's mind.
You say you had a hunch…
You've got Ian Poulter who's an inspirational player and can raise his game. You've got Luke Donald, who's working on his swing and hasn't had the year that he would've liked. And then you've got Lee Westwood, who seemed to respond to Paul McGinley saying on television that he's got to show some form, and he did that right away by shooting 63 at Firestone, and then doing well in the PGA. So I had a sneaking suspicion that he was going to pick Lee Westwood, so that meant it was between Luke Donald and Stephen.
So there was a quiet confidence?
Yes, but it was difficult for me to stand aside and look at it objectively, because I was looking at it subjectively. But anyway, I'm pleased for Stephen. I feel sorry for Luke. At the end of the day, as long as we've got wildcards, somebody's going to be disappointed. Sometimes, a captain's just got to go with his hunch. Stephen has also done very well at Gleneagles with seven top-10 finishes there now. There's a lot of home support there for him.
You must have been impressed with the way he fought to earn his automatic spot, too, only missing out due to David Howell's 63 in the final qualifying event in Italy…
Yeah, it's funny; you could almost sense David's disappointment that he had done that. But that's the way it goes. But I was very impressed with the way Stephen played (in Italy). He attacked the course, and it's not easy to go out there and attack because it can go the other way. But he kept it going. It's always been his ambition to play in the Ryder Cup and he just wanted it so bad.
Bernard Gallacher is an ambassador for Golf Care, the UK's number one specialist golf insurance company. From £22.99 golfers can cover both themselves and their equipment and have peace of mind every time they step onto the course. www.golfcare.co.uk (opens in new tab)
Tom Clarke joined Golf Monthly as a sub editor in 2009 being promoted to content editor in 2012 and then senior content editor in 2014, before becoming Sports Digital Editor for the Sport Vertical within Future in 2022. Tom currently looks after all the digital products that Golf Monthly produce including Strategy and Content Planning for the website and social media - Tom also assists the Cycling, Football, Rugby and Marine titles at Future. Tom plays off 16 and lists Augusta National (name drop), Old Head and Le Touessrok as the favourite courses he has played. Tom is an avid viewer of all golf content with a particularly in depth knowledge of the pro tour.