Mizuno JPX800 HD irons
Mizuno JPX800 HD irons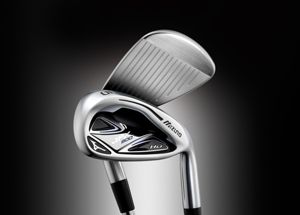 The Mizuno JPX800 HD irons are some of the most forgiving long irons on the market, many will find an immediate improvement in their approach play from 150 yards and out. The sound off the face is pleasing. The original JPX800 offered a combination of forgiveness and workability, which will appeal to a far wider range of golfers. PGA pro verdict The Mizuno JPX800 HD irons are another beautifully made product from Mizuno. Performance also impressed with a consistent and long flight. The centre of gravity works further back as the irons become longer, and this gave the 3-, 4- and 5-irons a hybrid type feel, which I applaud. Its profile looked refined at address and not at all clumsy, which again from a player's perspective is really important. (Golf Monthly Top 25 Coach John Jacobs)
Why you can trust Golf Monthly Our expert reviewers spend hours testing and comparing products and services so you can choose the best for you. Find out more about how we test.
The Mizuno JPX800 HD irons are a higher-launching and more forgiving version of the original JPX800 thanks to the cavity design, a wider sole and increased offset. The 4- to 7-irons feature a deep-pocket cavity that is thinner in the sole area to help the face flex. As well as being more forgiving this makes the design more powerful. In the 8-iron to PW, a shallower cavity means there is more control on offer.
The Mizuno JPX800 HD irons will suit higher handicappers who appreciate Mizuno's quality irons and/or players seeking forgiveness in the longer clubs.
Mizuno has built its reputation on irons aimed at the opposite end of the spectrum, but these super game-improvers have plenty to offer anyone who wants to find consistency. The long irons are particularly impressive. The shorter clubs offer a little more workability, but some might be tempted to create a combo set with the more compact JPX800.
See also:
Mizuno JPX800 HD irons video review
Mizuno JPX800 HD irons pictures
Paul joined Golf Monthly in 2006 in a junior role and has since worked as senior staff writer and now as technical editor. He writes equipment and instruction content and tests the vast majority of golf clubs that are introduced every year.