Clarke joins Setanta Sports
Ryder Cup star Darren Clarke has joined Setanta Sports as the new brand ambassador, alongside a number of established names.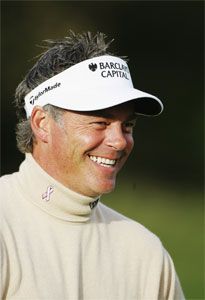 Darren Clarke has joined Dominic Holyer, Ken Brown and Ronan Rafferty as part of the Setanta Golf Team and he will represent the face of the Setanta Sports brand. The Setanta Golf channel will be launched on January 8 and will show exclusive coverage of PGA Tour events.
?I?m delighted to come on board with Setanta it's very exciting for me to represent them and I hope to help make golf coverage of the highest standard,? said Clarke, who will give viewers an added insight into professional golf. ?After a round I can hopefully come in to the booth and explain how the course is playing, the sort of thing I think viewers are interested in.?
Dominic Holyer will begin presenting tonight when Setanta starts its coverage of the PGA Tour with the Mercedes Championship on Setanta Sports 1.
?I?m very excited about joining Setanta, as soon as I found out who was involved and what they wanted to do I was keen to get on board. The message that came across to me is that Setanta are very serious about their sport but they also want viewers to have fun,? said Holyer.
Paul joined Golf Monthly in 2006 in a junior role and has since worked as senior staff writer and now as technical editor. He writes equipment and instruction content and tests the vast majority of golf clubs that are introduced every year.