Ballack and Fritsch win Dunhill Links team title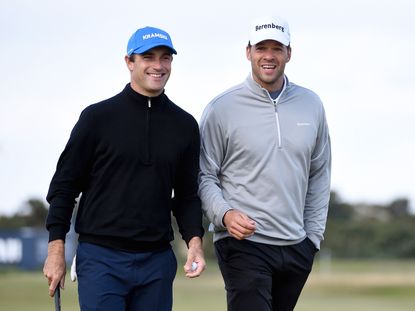 (Image credit: Getty Images)
Former German international footballer Michael Ballack teamed up with compatriot Florian Fritsch to win the team title at the 2015 Alfred Dunhill Links Championship
Michael Ballack, the former captain of Germany's national football team, and Florian Fritsch, the German European Tour golfer, won the pro-am team title at the 2015 Alfred Dunhill Links Championship at St Andrews yesterday.
The German duo shot better-ball scores of 63-65-58-62 for a 40-under-par total, and thanks to a pair of closing birdies they edged out English pro Chris Wood and amateur Mark Madden, a former polo professional, by a shot. In third place in the pro-am in Scotland were the team of pro Robert Karlsson and amateur Selwyn Nathan, a further shot back on 38-under par after four rounds.
Ballack, who scored 42 goals in 98 caps for Germany and starred for Bayern Munich and Chelsea, only met Fritsch for the first time 10 minutes before they teed off in the first round of the Dunhill Links Championship on Thursday, yet the paired gelled immediately.
"We had never met before but Florian helped me out a lot and it has been a tremendous four days," said Ballack, 39, after his round yesterday. "I was particularly emotional after our great third round at Kingsbarns and I knew we would be playing in the last group out in the final round."
Munich's Fritsch, 29, who earned $50,000 of unofficial prize money for his part in the victory, added: "It's amazing. I get to play golf with someone I have watched on television for pretty much all my life, and I get to play with him on my own turf. He's someone I have always looked up to as a footballer and as a great sportsman."
Ballack, an 18-handicapper, holed out for the decisive net birdie on the famous 18th green on the Old Course.
"It looked good for us for a long time today," said Ballack, "and I thought we were leading comfortably but suddenly another team was leading and we had a bogey and double-bogey early on in the back nine. So we had to get two birdies in the last two holes, but somehow we did it and it was a great experience. As an amateur, you just enjoy the moment here. It's not about winning, it's just about being part of a great tournament. It was really special.
"Footballers are used to playing in front of 50,000-60,000 people, but this is different. My hands were shaky at times out there, but Florian saved me a few times when I had to pick up my ball and I did get more confident as we went on. This is a different kind of pressure to what I am used to in football."
Story courtesy of Mercedes-Benz. Mercedes-Benz is Official Partner of the 2015 Alfred Dunhill Links Championship
Robin has worked for Golf Monthly for over a decade.