The R&A pace of play survey, April 2015
Stats & figures from the new R&A survey into pace of play and golf participation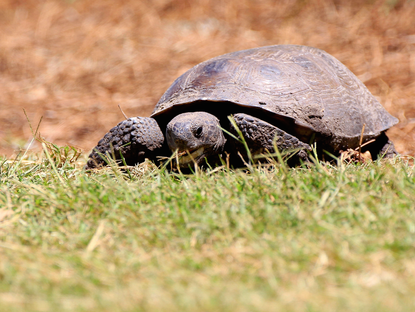 On April 27th 2015, The R&A pace of play survey was published. We present some of the key findings of this extensive research into golf participation here
Headline findings
The R&A pace of play survey, which ran for over six months from September 2014 to March 2015, attracted over 56,000 responses from 122 countries around the world.
Its aims were to investigate issues in golf that are impacting on participation figures, and to get a better understanding as to what extent pace of play might be a factor influencing participation.
The results, perhaps surprisingly, showed that 70% of golfers are largely happy with how long it takes to play, although 60% said they felt they would enjoy it more if it didn't take so long.
From those within golf's so-called "missing age group" (25 to 44-year-olds) who said they were never happy with pace of pay, 20% said it would need to take 1 to 1.5 hours less to allow them to play more often, while another fifth would welcome the chance to play just nine holes more often.
Overall, however, pace of play was only seen as the third biggest obstacle to people playing more golf, attracting just 16% of the vote in a question asking what the single biggest obstacle was.
That was comfortably behind work commitments (34%) and family commitments (29%). Other factors included other hobbies, cost of play, difficulty of the game and the cost of equipment.
Duncan Weir, Executive Director – Working for Golf at The R&A, said, "This survey is the first step for us in examining, in detail, the wide range of issues currently affecting participation in golf. There is plenty of anecdotal evidence available but we conducted the survey to obtain accurate data on how much of an issue pace of play is for golfers and to give us an insight into what they see as the main factors contributing to slow rounds.
"We feel that the next step in this process is to engage with our partners throughout the golf industry to look at these findings and invite them to contribute their views to these important discussions. Our forum later this year will provide the opportunity for these discussions to take place."
That follow-up forum, to which various golfing organisations, partners and bodies will be invited, is planned for later in the year in St Andrews to discuss further the issues raised in the survey.
Other key facts and figures from the survey
* A total of 56,248 people responded to the survey.
* The differences between age groups and genders were not as marked as anecdotal evidence might lead one to believe, so results were mainly broken down via seven regions around the world rather than by age or gender (although data is also available by age and gender).
* Those regions were: Africa (323 respondents); Asia (3,339); Australasia (11,601); Continental Europe (10,165); GB&I (19,228); Latin America/Caribbean (647); North America (9,097).
* 10% of respondents had been playing golf for less than 5 years; over 50% had been playing for over 20 years.
* 75% of respondents typically tee off midday or earlier.
* Playing in fours is standard practice throughout the world, other than in GB&I where it drops to 50% and Continental Europe where it drops to 39.9%. Elsewhere, people play in fourballs between 80% and 90% of the time.
* As expected, the 25 to 44-year-olds play considerably fewer rounds per year than both the younger and older age brackets. The 65 to 75-year-olds play most, averaging nearly 93 rounds a year.
* Australasians are the most competitive golfers, with nearly 81% of their rounds played in club competitions or similar rather than for fun. In North America, that figure dips to just 16.9%.
* Over 90% of golfers worldwide want golf to remain an 18-hole sport, with that figure only dipping lower in Continental Europe (80.2%).
* Only 7.3% of GB&I respondents stop at the halfway house during a round, a figure that rises to 78.9% in Africa.
* Over 50% of golfers now regularly use a DMD globally, with the only anomalies Africa, Latin America/Caribbean and Asia, where the figure dips to just 18.8%.
* Worldwide, only 8.8% of rounds played take 4.5 hours or more, with nearly 75% taking between 3.5 and 4.5 hours.
* The mean round time in GB&I is 3 hours 44 minutes now – exactly the same mean time as when respondents first started playing!
* The mean number of golfers in a group globally is 3.55, so could this tendency for fourball golf be a major contributing factor to pace of play?
* The most common response to average round times was 4.0 to 4.5 hours, except in GB&I where it dropped to 3.5 to 4.0 hours.
* Golfers worldwide reported no noticeable difference in round times from when they first started playing till now.
* Cost of play was in important factor in preventing more golf in Asia at 28.5%, but only 2.2% of golfers in the GB&I listed cost of play as an obstacle to more golf.
* 43% said they were always happy with the pace of play and nearly 65% mostly happy. Only 4% were never happy, and golf for them generally took over 4.5 hours.
* Despite this, 60.1% said shorter round times would enhance their enjoyment.
* 50% said a reduction in round times would make no difference to their frequency of play; 25% said a reduction of 21-39 minutes would encourage them to play more.
* The report will investigate the causes of slow play further down the line, but at this stage, poor etiquette, bad play and pre-shot routines were cited most frequently on the player behaviour side.
* The course management side (too short a tee-time interval and letting fourballs out early in the day) was considered less significant as were elements such as course difficulty, course length and severity of the rough.
* These factors will be examined in more detail in due course, but among other suggestions to be raised by survey respondents were:-
* changes to certain Rules (e.g. ball search time, putting with flagstick in).
* better marshalling and more accommodating course set-ups.
* better education about Rules, etiquette and pace of play.
* making examples of tour pros more often with more slow play penalties, and more high-profile players being penalised.
* Finally, amid all the pace of play furore, clearly some golfers worldwide view it all very differently, with the following comments all made in the survey:-
* "Leave us alone"
* "Golf is not a race"
* "If you want to run play another sport"
So there is clearly much work to do discover the extent to which pace of play really is a problem that is driving people away or deterring them from playing more golf, or whether other factors are the more prevalent causes or reduced golf participation.
Those interested in reading the full survey can download it from The R&A website. (opens in new tab)
Jeremy Ellwood has worked in the golf industry since 1993 and for Golf Monthly since 2002 when he started out as equipment editor. He is now a freelance journalist writing mainly for Golf Monthly across the whole spectrum from courses and Rules to equipment and instruction. He also edits The Golf Club Secretary Newsletter, a highly regarded trade publication for golf club secretaries and managers, and has authored or co-authored three books and written for a number of national papers including The Telegraph and The Independent. He is a senior panelist for Golf Monthly's Top 100 UK & Ireland Course Rankings and has played all of the Top 100 plus 91 of the Next 100, making him well-qualified when it comes to assessing and comparing our premier golf courses. He has now played well over 950 golf courses worldwide in 35 countries, right across the spectrum from the humblest of nine-holers in the Scottish Highlands to the very grandest of international golf resorts, but put him on a links course anywhere and he will be blissfully content.
Jezz can be contacted via Twitter - @JezzEllwoodGolf
Jeremy is currently playing...
Driver: Ping G425 LST 10.5˚ (draw setting), Mitsubishi Tensei AV Orange 55 S shaft
3 wood: Ping G425 Max 15˚ (set to flat +1), Mitsubishi Tensei AV Orange 65 S shaft
Hybrid: Ping G425 17˚, Mitsubishi Tensei CK Pro Orange 80 S shaft
Irons 3-PW: Ping i525, True Temper Dynamic Gold 105 R300 shafts
Wedges: Ping Glide 4.0 50˚ and 54˚, 12˚ bounce, True Temper Dynamic Gold 105 R300 shafts
Putter: Ping Fetch 2021 model, 33in shaft (set flat 2)
Ball: Varies but mostly now TaylorMade Tour Response