Team GB regain 2015 Simpson Cup
The hosts earned an enthralling 9.5 to 8.5 win at Royal St George's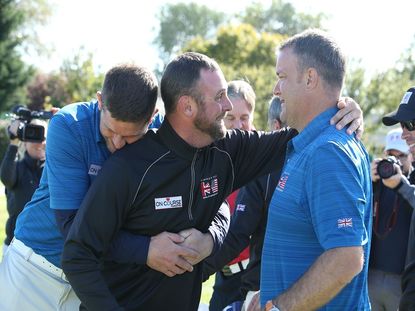 Jason Evans' side bounced back from last year's defeat at Congressional with a 9.5 to 8.5 victory.
Team GB won a captivating 2015 Simpson Cup against their American opponents 9.5 to 8.5 on Wednesday.
Since 2012, members of the On Course Foundation, which helps men and women injured or sick in the line of duty, have competed against each other to raise funds and awareness.
This year Team GB were tasked with winning the cup back after defeat at Congressional in 2014. Andy Stevens' putt from five feet late in the day effectively ensured they did just that and won the trophy for the third time in four years.
Heading into the singles, the score was level at 3-3 after a spirited performance from Team USA on Tuesday.
However, it was Jason Evans' side who were left celebrating at Royal St George's.
Evans said: "For us, this tournament is one of the things we look forward to most throughout the year. But we're also a competitive bunch, and we wanted to win this thing back.
"I looked in the lads' eyes this morning, and I could see how determined they were. They really earned it today, and we'll no doubt enjoy a hard-earned drink or two tonight!"
Team GB showed their intent earlier in the day when Dave Ward beat Shawn Whitmore 4&2. Whitmore made the putt that confirmed America's victory last year, coincidentally against Ward.
The American found life tougher on British soil, though, and was five down through six holes against Ward, who now has an enviable 6-1-1 Simpson Cup record.
Ward said afterwards that he knew what was required from him as the first man out.
"Whenever you watch the Ryder Cup, you always see how much responsibility there is on the shoulders of the first man out," he said.
"I knew how important it was to get off to a fast start, and give us some early momentum. I'm just so pleased that I was able to come through in the end, and it was nice to get the win against Shawn this time around.
Anthony Lownds, Davey Carroll and Nathan Blewer all earned impressive points for Team GB, but Andrew Bachelder's win over Yorkshireman Tony Boyd made it a nervy finish.
However, Stevens' point meant that the Brits were only half a point short of the 9.5 they needed. Ian Bishop duly provided it against Ken Gestring to seal the trophy.
Steve Ogletree, Team USA's vice-captain, said: "We just didn't get off to the start we wanted today, but we never gave up. A massive congratulations to the Team GB boys, they deserved it today. But we'll come back strong next year."
Will Medlock graduated from UEA with a degree in Film and Television before completing a Masters in Sports Journalism at St Mary's in London. Will has had work published by The Independent and the Rugby Paper.