Gallery: AT&T Pebble Beach National pro am
Daly dazzles, sea sparkles, Furyk fails finish, and stars strike it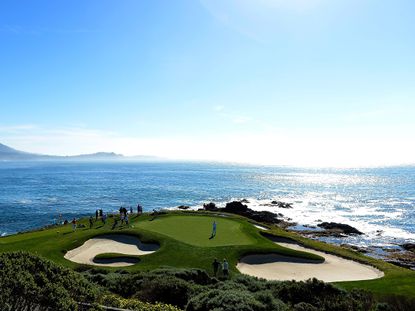 (Image credit: Getty Images)
Daly dazzles, sea sparkles, Furyk fails finish, and stars strike it
Deer take a closer look at the action during the final practice day at Monterey Peninsula.
John Daly with his caddie and fiancée Anna Cladakis on the 17th hole during the first round of the AT&T Pebble Beach National pro am. He made a bogey-free 7-under 65 and finished the opening day in third spot.
"I had a few gimme birdies today, I kept the ball below the hole and had a couple of good up and downs," the 48-year-old reflected afterwards. "I played pretty smart today and it's been a long time since I started this well."
Too true. Daly hasn't won on tour since February 2004 and is ranked 839th in the world. He hasn't made the cut at the AT&T Pebble Beach pro-am since his rookie season in 1991. He didn't this time despite his excellent 65 as he followed it up with a 72 and a 73.
All 156 competitors play a round each of the three courses once before a 54-hole cut. The top 60 and ties contest the final round over Pebble Beach.
Oscar Fraustro on the first hole during his first round, at Spyglass Hill.
Ian Poulter and Kenny G check something out whilst waiting to play during the second round of the AT&T Pebble Beach National pro am at Spyglass Hill. Kenny G used to be a plus-handicapper and now plays off two.
Bill Murray plays the iconic 7th hole at Pebble Beach...
.. and Brandt Snedeker lines up a putt on its green
Jim Furyk with Huey Lewis. Furyk took a one-shot lead into the final round. But history was against him triumphing on the morrow. He had not won on tour since September 2010 and had failed to win the last eight times when he was atop the leaderboard after 54 holes. That became nine when he carded a final round 74 and ended up in a tie for 7th
Instead it was Brandt Snedeker, seen here playing the 9th on the final day, who won the 2005 AT&T Pebble Beach National pro am.
Picture credits: Getty Images
Contributing Writer Golf courses and travel are Roderick's particular interests and he was contributing editor for the first few years of the Golf Monthly Travel Supplement. He writes travel articles and general features for the magazine, travel supplement and website. He also compiles the magazine's crossword. He is a member of Trevose Golf & Country Club and has played golf in around two dozen countries. Cricket is his other main sporting love. He is the author of five books, four of which are still in print: The Novel Life of PG Wodehouse; The Don: Beyond Boundaries; Wally Hammond: Gentleman & Player and England's Greatest Post-War All Rounder.