Open blog: Bill Elliott - Diary of a Golf Writer (he claims)
Bill Elliott has an interesting lunch with an old friend, and also has moved from champagne to ice cream as the sun is now out at Royal Lytham & St Annes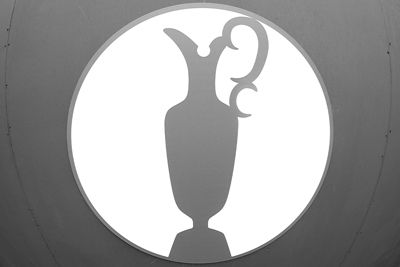 SO to Day 6 and at last we all wake here to some blue sky and rather weak sunshine. I thank someone's god for this. It was still weakly bright when I came in off the course to have a bite of lunch and found myself sitting next to an old friend.
Mark Roe was chief pratical joker on the European Tour. These days of course Mark is better known for his media work especially with the Sky golf team here he has proved an articulate analyser of the old game. But he also has developed a separate career as a short game expert and has worked with a posse of better known golfers led by Lee Westwood. Mark's own short game was always the best part of his golf and I believe this is because he has a fertile imagination. He tells me that his ability to play this shot and that around the green was helped hugely by his relationship with Seve Ballesteros.
"I sometimes couldn't wait to finish a round on Tour and go and have some fun with my short-game on the practice green wherever we were. Seve was the same and he used to seek me out to go and have a duel. He'd play a ridiulous shot and then challenge me to replicate it. Quite often I did just that but almost always he eventually came up with some piece of magic that proved beyond me. But I learned so much from him and I'm passing as much of that on as I can at the present." To be fair I once had a putting contest with Seve. It was staged one evening on the practice green at Sunningdale and back then I quite fancied my chances with a putter in my hand. However, when Seve single-putted the first six holes of our nine hole challenge I just grinned at him and departed for the bar for a consolation drink.
An hour later I was on my third glass and Seve was still practice putting. The great ones have never got there by ability alone.
Meanwhile, to celebrate the arrival of summer for a couple of days I set forth to find an ice-cream (I've given up on the Bolly tent by the way). I found one too. Had a honeycomb hash cone with just one scoop, so small that I remember bigger boils I've had lanced, that only only £2.20. Whatever else the Open is good at, it is brilliant at extracting the money from your pocket.
Bill has been part of the Golf Monthly woodwork for many years. A very respected Golf Journalist he has attended over 40 Open Championships. Bill was the Observer's golf correspondent. He spent 26 years as a sports writer for Express Newspapers and is a former Magazine Sportswriter of the Year. After 40 years on 'Fleet Street' starting with the Daily Express and finishing on The Observer and Guardian in 2010. Now semi-retired but still Editor at Large of Golf Monthly Magazine and regular broadcaster for BBC and Sky. Author of several golf-related books and a former chairman of the Association of Golf Writers. Experienced after dinner speaker.