Puma Ignite spikeless golf shoes revealed
Puma has revealed its new Ignite spikeless golf shoes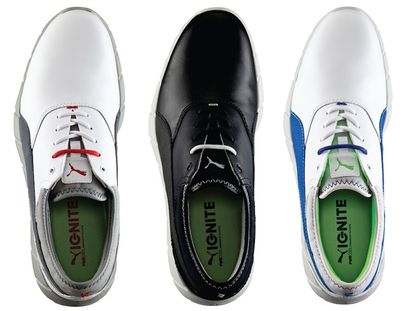 Hot off the back of its recent TitanTour Ignite launch, Puma has revealed the new Puma Ignite spikeless golf shoes, which feature its revolutionary Ignite Foam for better support and comfort
Puma Golf has introduced the new Puma Ignite spikeless golf shoes, a versatile and stylish offering that can be worn on and off the course.
The new spikeless shoes will complement the cleated Puma TitanTour Ignite golf shoes it launched last month.
Like the cleated model, the Puma Ignite spikeless golf shoes will make the most of Ignite Foam, an ultra-responsive foam that cushions your step and doesn't deform over time.
Puma's new Foam technology is also designed to make the shoes more responsive and release energy more efficiently during your swing and as you walk, to make play more comfortable.
Puma call the new design a dynamic take on a classic golf shoe, created to reflect a more casual style and more refined performance.
The sole of the Puma Ignite spikeless golf shoes (below) features 39 strategically placed hexagon pods that provide multi-directional traction, while the 24 chevron shaped lugs increase grip where it's needed most.
The performance TPU outsole also encases the midsole for lightweight strength and durability, increased flexibility and superior traction.
"Our new Ignite family was designed with comfort in mind," Grant Knudson, Head of Footwear at Puma Golf, told GM.
"Specifically, for the spikeless version, we drew inspiration from classic golf footwear and combined that with a fashion-forward and sporty design, resulting in a stylish, high-performance shoe that can be worn on and off the course. The full-length Ignite Foam midsole provides unparalleled cushioning that keeps you comfortable all day, while still providing the perfect balance of support, stability and traction."
Puma Ignite spikeless golf shoes details
The Puma Ignite spikeless golf shoes will retail at £100 for both the men's and women's versions.
The men's will come in in five colorways; White/Surf the Web/Green Gecko; White/Turbulence/High Risk Red; Black/Glacier Gray; Drizzle/Vibrant Orange; Chipmunk/Peacoat.
The women's models will come in three colorways; White/Purple Cactus Flower/Glacier Gray and White/Glacier Gray/Rose Red; Black/Pink Dogwood/Glacier Gray.
All versions will be available from the 1st of February 2016.
Jake O'Reilly specilaises in equipment coverage, and joined the Golf Monthly team in 2013. Before this he graduated from the University of Huddersfield with a Sports Journalism and Media degree, and worked at a number of British golf magazines. Follow Jake on Twitter
@jake0reilly