Nike VR Pro Forged DS wedges launched
The Dual-Sole design and X3X grooves increase spin and control, while ensuring square contact and pronounced relief in the heel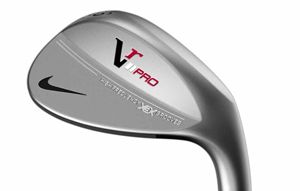 Nike Golf has announced the launch of its new Nike VR Pro Forged Dual-Sole (DS) wedge.
Following on from the success of the popular VR Pro Forged wedges, the new VR Pro Forged DS wedges are available immediately.
It has been developed with a precise forging process and results in a wedge that offers accurate shot-shaping with a greater propensity for low scoring.
The Dual-Sole grind ensures the ideal set-up from sand, fringe, fairway or deep rough and offers golfers two distinct benefits.
For normal square addressed shots, the sole has added leading edge bounce, but the trailing edge is relieved, allowing for utilisation of the bounce. This helps to eliminate digging but reduces the contact area so the club glides through the turf and helps prevent bladed shots.
For open-faced shots, the heel design comes into play and the leading edge sits low to the ball on short flop shots.
The VR Pro Forged DS wedge also features Nike's high-frequency X3X grooves with a precision laser crosshatch pattern that is applied to the land area between the grooves.
This adds three times the surface texture and creates increased spin in all conditions. The grooves are also closer together and deeper on the clubface, which provides more control and consistency off the clubface.
They are available in a variety of loft and bounce options and have an RRP of £89.95.