Who is the oldest Major winner by tournament?
Clue: the wins were in 1968, 1986, 1867 and 1990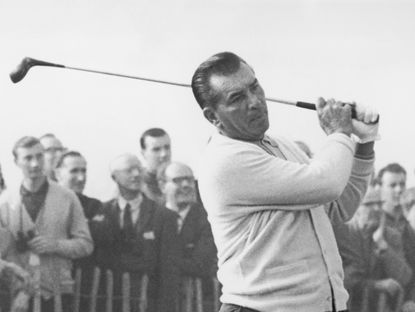 (Image credit: Getty Images)
The oldest Major winner of each of the current tournaments were all in their mid-to-late forties, but their victories span 123 years. Read who they are here
The oldest Major winners of each of the current Major tournaments are:
USPGA Championship: Julius Boros: 48 years old, 1968
Julius Boros was an accountant who only took up golf in his twenties. He turned pro (opens in new tab) when he was 29 and three years later won his first tour event, the 1952 US Open, by four strokes.
Boros was famed for a relaxed swing - his motto was "swing easy, hit hard" - and the quickness of his play. He did not take a practice swing and rarely tarried on the greens either reasoning that "by the time you get to your ball, if you don't know what to do with it, try another sport".
He again won the US Open in 1963, at the age of 43, defeating Jacky Cupit and Arnold Palmer in an 18-hole play-off after all had tied after 72 holes at a hefty nine over par.
When Boros won the 1968 PGA Championship he became the oldest Major winner. The next month he won the Westchester Classic, which had the then biggest prize fund in golf.
This was his last tour victory. However it might well not have been. Aged 53, he was tied for the lead at the U.S. Open with 10 holes to play before finishing 7th. Aged 55, he lost a play-off at the 1975 Westchester Classic.
US Masters: Jack Nicklaus: 46 years old, in 1986
Going into the 1986 US Masters, Nicklaus had not won a tournament in two years, and a Major for six. "I don't even know why I was playing golf then," he reflected decades later. "I didn't want to quit but I really didn't have any goals. Nobody really expected me to be in contention at that point in my career, particularly even me."
Nicklaus had shot rounds of 74, 71 and 69 to be tied for ninth, four strokes behind leader Greg Norman, going into the final day.
On that final day he did nothing early on to suggest he would move into contention, playing the first eight holes in even par, with a birdie and a bogey. Then on the 9th he made birdie and this sparked something off. He charged through the back nine in only 30 shots. When he holed for birdie on 17 he lead for the first time in the tournament.
Seve Ballesteros dunked his ball on 15 in the water and three-putted the 17th; Tom Kite missed a crucial 12ft birdie putt on 18; and Norman, who had made four consecutive birdies, hit his approach on 18 into the gallery and made bogey when all he needed to take Nicklaus to a play-off was par. Nicklaus had won (opens in new tab) by one shot.
The Open Championship: Old Tom Morris, 46 years old, in 1867
Old Tom Morris, who was born in St Andrews in June 1821, was apprenticed to Allan Robertson. Robertson ran the St Andrews Links and made golf equipment. He was regarded as the best golfer of his time.
Old Tom soon became known as the second best. When he and his employer paired up to play foursomes, it was said they were undefeated when games were played on even terms.
Robertson died in 1859, aged 44, and was buried at St Andrews Cathedral. His epitaph read: "He was greatly esteemed for his personal worth and for many years was esteemed as the champion golfer of Scotland."
In 1860 a competition was held to find a new 'Champion Golfer', the first Open Championship. Old Tom Morris hit the first shot in the first Open in 1860. He came second of the eight players, all professional, who took part.
Next year amateurs were also invited and 18 golfers competed. Old Tom won it that year, as he did the following year and also in 1864 and 1867.
The year following his last triumph Old Tom was runner-up... to his seventeen-year-old son Young Tom, who remains the youngest winner of a Major.
US Open: Hale Irwin, 45 years old, in 1990
Hale Irwin first played golf as a four year old, and broke 70 for the first time when he was 14.
All three of his Major wins came in the US Open. The first was aged 29, in 1974. He won again in 1979 and then in 1990.
The 1990 win was a triumph for the 45 year old's stamina. Irwin holed a 45ft birdie putt on the 72nd hole to force an 18-hole play-off against Mike Donald. When these extra 18 holes did not separate them it was into sudden death.
Irwin won on the first sudden-death hole, his 91st of the tournament.
Contributing Writer Golf courses and travel are Roderick's particular interests and he was contributing editor for the first few years of the Golf Monthly Travel Supplement. He writes travel articles and general features for the magazine, travel supplement and website. He also compiles the magazine's crossword. He is a member of Trevose Golf & Country Club and has played golf in around two dozen countries. Cricket is his other main sporting love. He is the author of five books, four of which are still in print: The Novel Life of PG Wodehouse; The Don: Beyond Boundaries; Wally Hammond: Gentleman & Player and England's Greatest Post-War All Rounder.