5 Tips To Beat A Higher Handicap In Matchplay
Here are some tips when playing higher handicaps in matchplay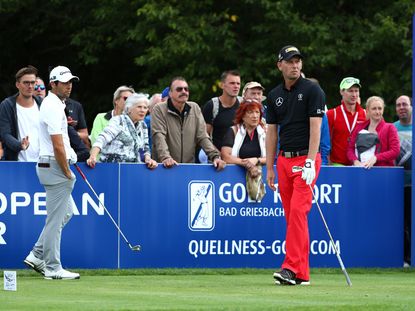 (Image credit: Getty Images)
It was announced that for the 2018 season the golfing handicap would rise to 54, here are some tips to help you when giving a bucket loads of shots. By Matt Cradock
5 Tips To Beat A Higher Handicap In Matchplay
From the start of 2018, golfers could have official competition handicaps of up to 54 after CONGU's latest changes had been implemented.
So what if you were to face someone who is off this high handicap?
Someone who is receiving 30+ shots during a match. Are there any tactics or tricks that you could ploy to help gain an advantage?
Here are 5 top tips to help you when facing a higher handicapper.
Intimidation off the tee
When stepping up to the ball to start your round/match it is crucial that you hit a good first tee shot. This can often dictate what lies ahead for the next three to four hours.
If your main strengths are distance off the tee and accuracy then you have to use it to your advantage when playing a higher handicapper.
And it all starts from the first tee; by smacking a 250 yard drive down the centre of the fairway it instantly puts your opponent under pressure and gives the impression that you're going to shoot a low score today.
Obviously you aren't guaranteed to hit a flawless drive straight away so it is important that you loosen up as much as possible pre-round to give yourself a much higher chance of ripping that first drive.
By going to the range 30 minutes before hand and hitting some balls you are going to be swinging more freely and have more timing with in your swing.
By putting your opponent under pressure with the first drive it is very likely that he/she will force their tee shot as they try to keep up with you and that is when the mistakes begin to creep in and you can take the first hole.
Distance isn't everything
It's not just length off the tee though where the match is won and lost, hitting a shorter ball can sometimes work to your advantage.
You could hit an iron off the tee for accuracy to be a few yards back from their ball.
This may sound stupid but there is logic behind it. By being the shortest of the tee you are therefore hitting into the green first.
By hitting first into the green it is a great opportunity to put pressure onto your opponent.
If the pressure increases then they are likely to change their routine and make a mistake.
Play with what you know
Again it may sound simple at first but there is logic behind it.
When you're stood on the tee knowing your opponent has one or two shots on the hole it can be a daunting prospect.
You think to yourself that you need to try hitting the ball as far as possible to have the best chance of winning the hole.
Therefore you try quickening and changing your swing to try and get those added yards. It sounds good on paper but in reality it doesn't work.
What actually happens is you lose all timing and that lovely shot shape that you've had all round disappears. The main thing is to stick to what you know.
If you've been hitting a gentle fade all round then stick with it, if the driver isn't going where it should be then switch to a 3 or 5 wood.
The main thing is to keep the ball in play, the reason why your handicap is 20+ shots lower than theirs isn't purely down to distance, chances are you've got a better short game too.
Choose your moments
Obviously playing an opponent who is receiving a tonne of shots can be frustrating; however being angry on the course can be a benefit if used correctly.
An example would be on a dog-leg - you know if you were to hit a good drive you could get somewhere round the green.
By using this aggression you can put pressure on your opponent because they know that you are somewhere near the green for a likely birdie chance.
Intimidation and aggression can be a great way of playing matchplay because it can force mistakes very easily, either by your opponent trying to replicate the shot you've just done or the general pressure of being round the green off your tee shot.
Don't lose your rag
Don't show frustration on the course, especially about the number of shots you may be giving.
Don't get angry over the amount of shots you have to give because you've lost the match already.
The reason is because you are more focused on what your opponent may or may not do rather than concentrating on your own game.
By showing your emotion/expression about the number of shots it shows weakness to your opponent because they know they have the upper-hand.
If you keep muted on the situation and focus on your own game then you are more likely to win because you're focusing on every shot.
There are going to be moments when they will have a par with two shots but once you get your head around the fact they are off this handicap for a reason then you will relax.
By focusing on your game and maintaining consistent scores throughout the round you will be keeping constant pressure on your opponent.
Do you have any tips on how to play and defeat a higher handicap player? Let us know on our social channels
Follow Golf Monthly on Facebook, Twitter and Instagram
The leading website from the world's oldest golf magazine, we're the go-to destination for amateur and keen golfers alike who are keen to up their golfing game. As well as expert course reviews, news and tips to improve your handicap our golf-focused travel content will help you pair teeing off with your travels in some of the best destinations around the globe.