Q School Blog: Day five, Final stage
One more day to go and the 73 players left at Q School are on the point of exhaustion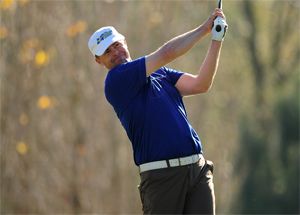 One more day to go and the 73 players left at Q School are on the point of exhaustion. Five rounds of high anxiety golf leave the nerve ends frayed and the levels of concentration at breaking point. For Londoner Chris Gane and Jamie Moul of Essex, the Q School has already proved to be a mountain they won't climb this year.
Barring the most miraculous final 18 holes since Q School began over 30 years ago, Chris's 79 on day five (including three bogeys and one triple in his back 9) and Jamie's 76 (five dropped shots in the last 8) are known as bad days at the office normally. At Q School, those scores are more like someone jumping out of the office window. They stand tied 62nd and tied 68th with only the top 30 getting Tour Cards for the 2009 season.
They weren't alone. Two Swedes are propping up the field after a 79 and an 81 (Andreas Hogberg and Steven Jeppesen), but another – Oskar Henningsson – burst back into the lead. His 18 under looks good enough for the £15,000 prize money for first place already.
Also with a Tour Card within touching distance are players like Danny Willett (2nd) Andrew Coltart, Joakim Haeggman and Chris Wood (all tied 6th) and David Drysdale (tied 11th).
But day five of Q School is all about getting ready for the most gut-twisting 18 holes in golf. Day six will break hearts and launch careers – and, unfortunately, it is the car crash events that will live longest in the memory.
Who cares who wins when many previous Q School champs have been back and forth to the event for many years beyond. Austria's Martin Wiegele, for instance, won in 2007 by a distance, but he was back here this year and missed the four-round cut.
The Tour Card cut-off looks like being either 5 or 6 under at the end of the tournament and too many players will have those figures in mind when they should be focusing on birdies to push them beyond the bubble.
So spare a thought for the likes of Stuart Manley (who had such a great end to the European Tour season and is now 6 under after day five), Iain Pyman (5 under and with a back injury that means he hasn't been able to swing the club without pain all week), Richard McEvoy (another past Q School champ who is 4 under) and James Kamte (3 under and regretting dropping three shots in the last three holes on day four).
In fact, you could look at all the players around the bubble and wonder how much sleep they'll manage overnight. My book about Q School has the words 'triumphs and tragedies' in the title – I'll be reporting on both tomorrow.
Where next?
Golf Monthly Forum: Have your say on Q School
Click on the link for more on Ross' book Golf On The Edge: Triumphs & Tragedies Of Q School
Get the Golf Monthly Newsletter
Tips on how to play better, latest equipment reviews, interviews with the biggest names and more.
Ross is a Q-School expert.