Golf Blog: Irish Open
James Mason is taking in the sights and sounds as the Irish Open travels to Royal Portrush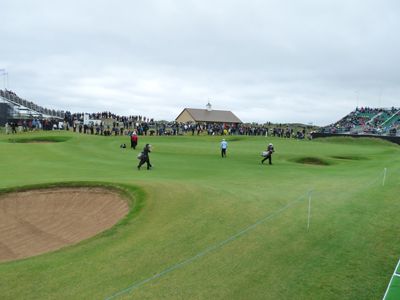 For the last couple of days you could feel the buzz in the air, but waking up this morning in Donegal you could feel the anticipation.
Some tournaments would love to have 15,000 spectators on a Sunday let alone for the Wednesday pro-am. But then Northern Ireland have been waiting a long time to show the world that if you bring top golf tournaments here they will support them.
I was at a Europro event last year held at Galgorm Castle, which attracts over 8,000 spectators, the biggest attended event in the Europro calendar, so I had an idea that it would be special when the Irish Open teed up at Royal Portrush.
All four days are now sold-out, all that is needed is a home victory to put the cherry on the top of the cake.
Don't get me wrong, the winner of this event will be greeted with a warm welcome no matter their nationality, but the party that would follow an Irish win would be extra special.
The undercurrent of course since Rory, Darren and of course Graeme McDowell became major winners, is to bring the Open Championship to Northern Ireland and particularly Royal Portrush.
There are a lot of hoops to jump through and I can't see it happening for the next ten years or so, but one thing the R&A wouldn't have to worry about is the Irish crowds and hospitality.
I have spent the last week in Ireland playing some amazing courses starting off at the beautiful Sligo, then on to Donegal, Rosepenna and Ballyliffin, each have a beauty of their own, from the views at Sligo to the bubblewrap fairways on the old links at Ballyliffin.
But what they all have in common is the warm welcome you receive, not just on the fairways but in the bars and hotels.
Ireland may not have a hot sunny climate, but it certainly has a warm heart, as the winner on Sunday night will find out.
James Mason is a senior contributor for Golf Monthly magazine and editor of planetgolfreview.com and has producing destination and equipment reviews for Golf Monthly, Greenside, and Middle East Golfer magazines. He has also produced destination features for Golf World and Going for Golf magazines and interviews for Middle East Golfer and Qatar Airlines. James was captain of Coventry university golf team and now plays off a 5 handicap.