What's in store for 2009?
The golf season for 2008-09 is already well underway but what do we have to look forward to in 2009?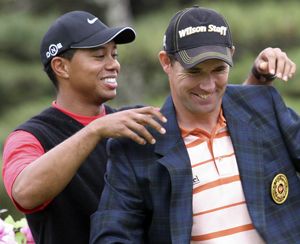 Golf Monthly February 2009 - What's in the issue?
The golf season for 2008-09 is already well underway. But we all know it's the US Masters in April that really gets our blood pumping. So what does 2009 have in store?
Return of the Tiger
Tiger Woods is sure to dominate the golfing headlines in 2009 as he seeks to return from his knee injury. But will he make the headlines for winning reasons?
Visit our online poll: Has the golfing world really missed Tiger Woods?
'Pad Slam'
Padraig Harrington is out to produce his own 'Tiger Slam'. He'll need to win the US Masters in April and the US Open in June, having won the Open Championship and USPGA last season.
Major Sergio
Sergio Garcia will go out in search of that elusive first Major – arguably the finest player on Tour at the moment without one.
Money Money Money!
The inaugural Race to Dubai will come to a head in November at the Dubai World Championship. How does a prize fund of $10,000,000 sound?
Young Guns Camilo Villegas, Anthony Kim, Martin Kaymer and Rory McIlroy are just four aggressive, young hot shots ready to take the game by storm.
There's plenty more to look forward to. Have your say in the Golf Monthly Forum:
Will Harrington win his third successive Open title? Will Steve Williams and Phil Mickelson call a truce? Who will win the Race to Dubai?
And…not forgetting that we all like a round or two as well, will we get a better summer in 2009? Maybe not! So why not treat yourself to a golf break? Failing that check out some of the latest gear that'll be hitting the shops in 2009.